Babies have shown us, time and again, year after year, that they can be even more unpredictable than the weather. They will come when and where they want. This year was filled with some of the most bizarre delivery locations, but there were also some pretty amazing birth stories this year. As we bring 2012 to a close, we'd like to take a moment to revisit the most amazing, bizarre and unexpected birth stories from 2012.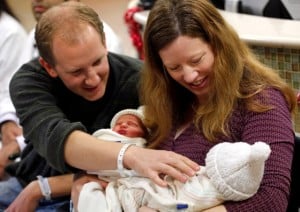 Only one of these twins were actually born in 2012, but hey, it's still pretty cool that the twins were born on separate days in separate years!
This couple defied the odds and delivered their second New Year's baby, in a row!
Maxamillian, born to Caroline and Lars Welz, was the first ever baby to be born with the help of an ovarian transplant. Even more amazing is the fact that Caroline received the transplant after winning a very difficult battle against Hodgkin's lymphoma – a very aggressive type of cancer.
This mom from Germany welcomed identical quadruplets! The odds of that happening? One in 13 million! That's like winning the baby lottery!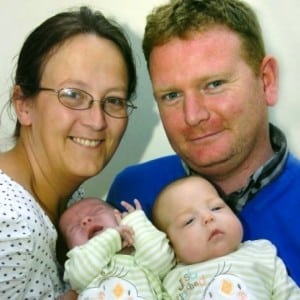 Andrew Connell delivered his twins in the caravan that he, his wife, Vicki, and four other children were vacationing in. They arrived at the park just hours before the delivery!
There were a few babies born on subway trains this year: This mom from New Jersey gave birth on the PATH train to NYC. This baby was also born on a NY subway train. This mom was the first ever to give birth on the Delhi Metro. This mom brought the Philadelphia subway station to a complete stop!
After enduring nine years of infertility and a difficult testicular biopsy, Jason Schiraldi learned that he had only one viable sperm. Miraculously, doctors were able to take this one, solitary sperm and turn it into a baby for him and his wife and high school sweetheart, Jennifer.
Little Blake Thacker let his momma, Katie, make it to the hospital before making his grand entrance…well, the hospital elevator, that is!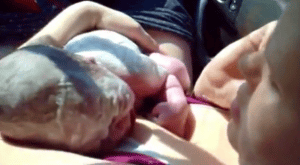 We've shared tons unusual birth places and situations, but this one really takes the cake! Mom delivered in the passenger seat. Dad captured the joyous moment while still driving!
This UK mom managed to make it to the hospital sidewalk before delivering her baby.
Thanks to the advancement of medicine, little Vivienne was born with the help of generation old sperm!
This mom broke the record for biggest baby born after delivering a 15.5 pound baby!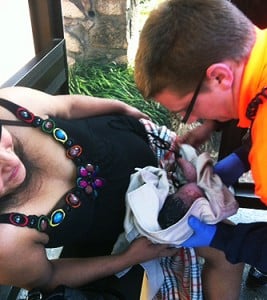 Thanks to some college students, one mom who went into labor at a NC bus stop had a safe but speedy delivery.
This cabbie received an extra special fare – the birth of a baby!
These triplets beat the odds, surviving after being born at just 24 weeks gestation. Their combined weight at birth? Four pounds!
Talk about beating some seriously tough odds! This mom has given birth to THREE leap year babies!
This 'little slugger' is bound to be a baseball fan for life!
Twins are born every day, but not to 66-year-old moms!  Born via IVF, the topic spurred many debates, all centered around one question: How old is too old to have a baby?
Most doctors give botox injections so their patients can slow down the aging clock. Little Maci Van Riesen's doctors used the botox to save her life!
Lauren and David Perkins were only trying for one or two babies, but they ended up with six – three boys and three girls!
This Tim Horton mom gave birth in bathroom!
Tim Goldsmith had received a leave from his tour in Germany, just in time to assist his wife, Jaime, in an unexpected home birth.
In the company of 135 other rescued African migrant workers,  this mom gave birth to a beautiful bundle of joy on a patrol boat!
Dylan Joseph and Hannah Fox may have the same mom and the same birthday, but these twins have different nationalities!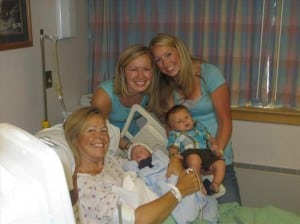 This grandma gave birth to her very own grandchild when her daughter, Angel, discovered she couldn't carry the baby.
This little girl has a serious need for speed! Her mom gave birth right outside the NH Motor Speedway.
Could you imagine giving birth in the middle of a war zone? This British soldier did…but she didn't even know she was pregnant to begin with!
This Chicago mom wasn't going to let a little thing like labor stand in the way of her right to vote!
Other notables included:
---
[ad]