Even though Beverly Mitchell's daughter Kenzie is a year old, the actress has just recently completed her baby girl's nursery.  When it came time to design the perfect space Beverly and husband Michael Cameron turned to designer friends Bill Horn and Scout Masterson(also known as 'the Guncles'). In the past the pair have also helped Tori Spelling and Kristina Guerrero ("E! News") create beautiful nurseries for their little ones.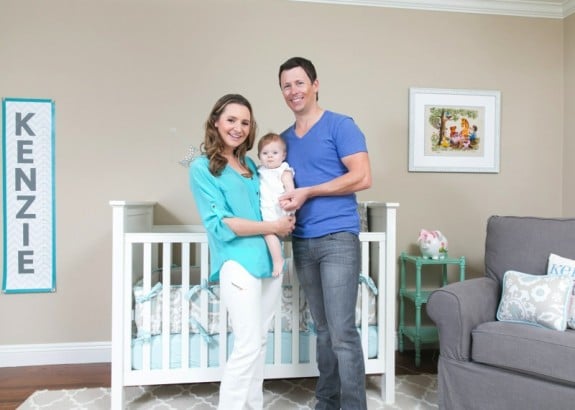 While looking for inspiration Beverly knew she wanted to create a more tranquil nursery with netural and calming colors. She 'hunted' Pinterest for the theme, and, in the end created a space that will grow with her daughter.
Kenzie's crib is fitted with Carousel Designs' Taupe Suzani collection; a four-piece crib bedding. Beverly gushed about her experience with the company saying,
'Carousel Designs was just amazing, they have so many great styles to choose from! If anything trying to narrow down the choices was the tough part. I fell in love with the Taupe Suzani print and instantly started designing the room around that.  I love that it is so tranquil and serene and I also wanted Michael to be comfortable in the room and not overwhelmed by pink.'
Oilo Studio's Double Cylinder Light adds a pop of color to the room.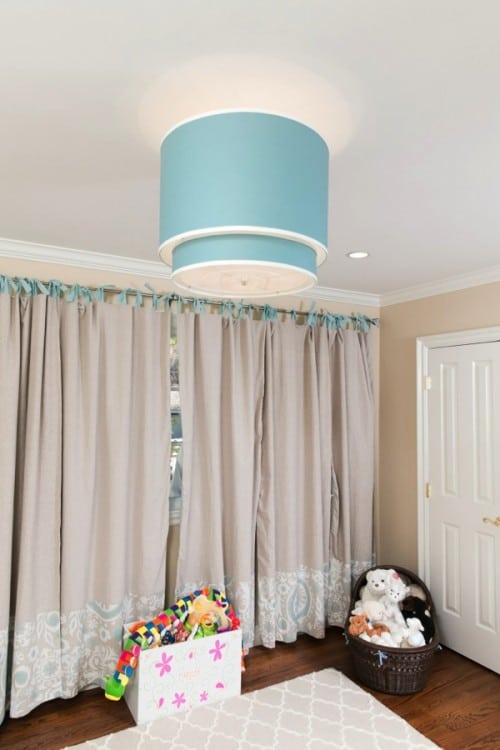 The actress found the crib, glider, lamp, side table, rug, bassinet and dresser at Pottery Barn Kids but searched Etsy for some of the custom pieces like the banner above Kenzie's crib and the height chart.  Kenzie's personalized birth details pillow came from Merle and Velma, a cute online shop that also creates custom blankets and tees.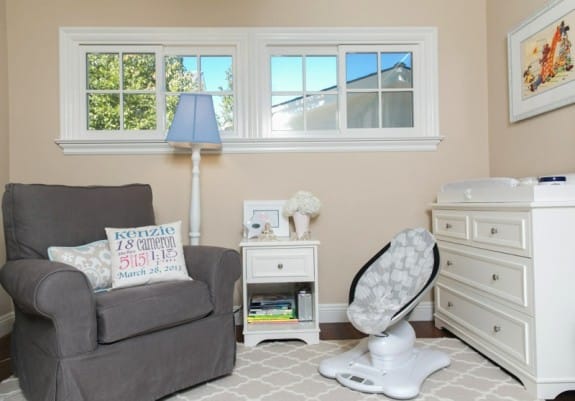 In the corner of the room we also spotted the very popular 4Moms mamaRoo.
"Bill and Scout are like my baby whisperers," Beverly said. "I had no idea where to start and what I needed and they totally came in and just took over and made sure we had everything we needed. They not only helped design the room, they also put the room together and handled the delivery of everything while I was at the hospital giving birth! They were amazing, we literally left in the morning as just the two of us with not a single thing in the room and a few days later came back as a family of 3 to a perfect nursery! I couldn't have done it without them."
Don't we all wish we could have them come in and style our nurseries in just a few days?  Bill and Scout also gifted the new mom with a 1950's era shell pink Jeanette vase, which she keeps on the side table filled with white hydrangea.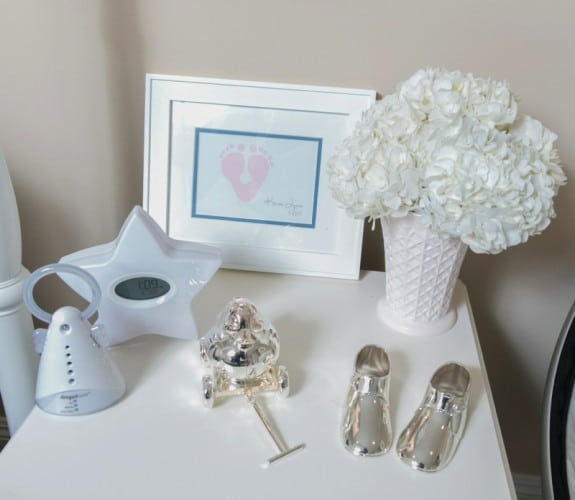 To add some nostalgia to the space Michael and Beverly included a pair of needlepoint canvasses that they both had as kids.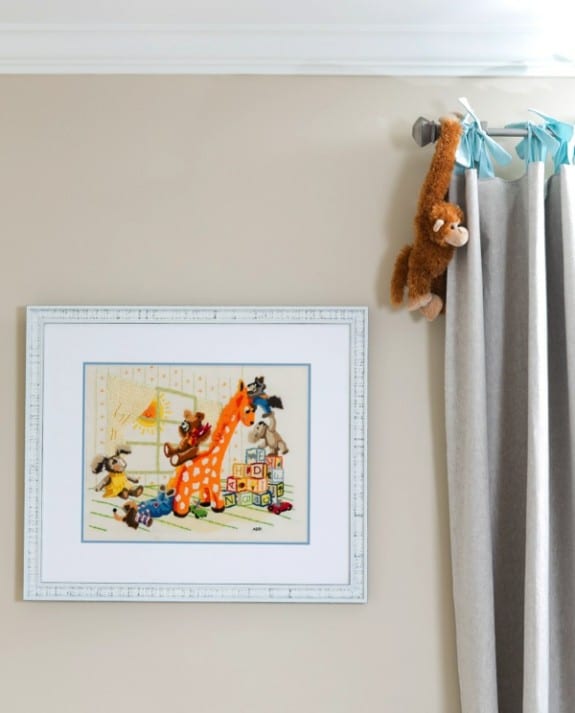 "One of the needlepoints was in my nursery, my great grandmother, Memo, made it for me," Beverly revealed. "I wanted something from our childhood in her room. My Mom gave it to me at my shower and it reminded me that I knew Michael had a needlepoint as well, so I asked his Mom if we could have it. When we opened it up, we were shocked. His needlepoint that his Aunt Annie made him for his nursery had the exact same characters. They actually looked like a set.  It truly was perfect so I took them in and got them framed and they are my favorite part of Kenz's nursery. A little something special from Michael and I's childhood that we get to share with our precious little girl."
Photo credit: Spantman Photography