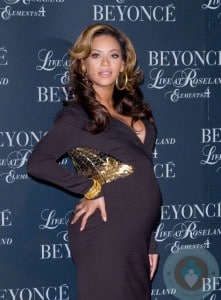 Congratulations to singer Beyonce and Jay Z on the safe arrival of their first child – a girl!
The New York Daily News reports that a very pregnant Beyoncé checked into the upper East Side Lenox Hill hospital Friday night under the name "Ingrid Jackson". Several security guards were spotted patrolling the outside of the hospital Saturday night.
In order to ensure their privacy the new parents rented out the hospital's entire fourth floor for $1.3 million, a employee told the newspaper.
On Saturday night, people were seen bringing bags of takeout and a dozen bottles of red wine onto the heavily guarded hospital wing.

After 11 p.m., even doctors and nurses were barred from entering the fourth floor, prompting one doc to complain that he had patients to see.

In an effort to keep images from leaking to the public, hospital workers placed tape over security cameras and are forcing employees to turn in cell phones when they arrive for their shifts, a source said.

Several security guards were spotted patrolling the perimeter of the hospital Saturday night.
The baby girl has been reportedly named Blue Ivy Carter.
Many of Beyonce and Jay Z's friends tweeted congratulations. Russell Simmons was first to announce the news at 1am "congrats to my good friends Beyonce and Jay-Z," Rihanna followed tweeting, 'Welcome to the world princess Carter! Love Aunty Rih'
Gwyneth Paltrow sent her love saying, Welcome to the world Blue! We love you already.
While reps for the couple have yet to confirm the baby's birth, its clear she has arrived.
Related Articles:
---
[ad]