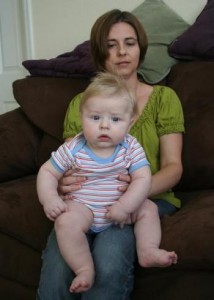 Bernie and Kelli Lange of Colorado are the parents of a beautiful and healthy baby baby boy named Alex. They were recently shocked to find out that their son was denied health insurance by Rocky Mountain Health Plan because the company considered him to be "too fat". Apparently, he fell into their high risk category because of his above average weight.
Baby Alex falls into the 99th percentile with his height and weight for his age group. He is four months old and weighs 17lbs and is 25 inches long.
Rocky Mountain insurance underwriters said that it was industry standard to deny coverage to new patients above the 95th percentile. They said the rule includes babies but this was the first time they had ever actually rejected one.
After a bit of media attention, brought on by the fact that Alex's dad is a part-time news anchor,Rocky Mountain announced they had changed their minds and agreed to give him coverage.
The crazy part of all of this, is that baby Alex is exclusively breastfed, which is the healthiest and most nutritious way to feed a baby.
Dad Bernie said:
I could understand if we could control what he's eating, but he's 4 months old. He's breastfeeding. We can't put him on the Atkins diet or on a treadmill. There is just something absurd about denying an infant [coverage]."
The couple had been seeking new insurance because the plan they had went up by 40 percent after Alex's arrival. The medical director for Rocky Mountain insurance,
Doctor Doug Speedie, later admitted the system is flawed.
"It's possible for a baby to be above the 95 percentile and still be healthy"
To be denied health coverage because your baby is in the 99th percentile is very absurd to me. Add to this that the baby is ONLY breastfed and it makes this whole story even more crazy.
I am glad that all this media attention helped them to get the coverage that they deserve for Alex. – Shannon Strohm, Staff Writer
Related Articles:
---