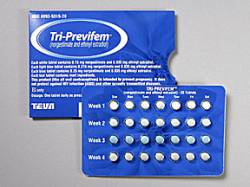 Alabama based Qualitest Pharmaceuticals issued a voluntary nationwide recall Friday for "multiple lots" of birth control pills due to a "packaging error."
A spokesman for the company said that "there are no immediate health issues currently" because of the packaging problems. The main concern, however, is that women may unintentionally become pregnant after taking the oral contraceptive.
"The unintended consequence of pregnancy is really the issue," spokesman Kevin Wiggins said. "That's why the company took a drastic action."
The recall involves 1.4 million packages that have been distributed to pharmacists and customers since last year.
In a statement the company said, "select blisters (found inside the pill box) were rotated 180 degrees within the card, reversing the weekly tablet orientation." This helped to leave the pills' lot number, as well as the expiration date, "no longer visible."
"As a result of this packaging error, the daily regimen for these oral contraceptives may be incorrect and could leave women without adequate contraception, and at risk for unwanted pregnancy," the company said.
Pharmacies have been told to contact those who have gotten the faultily packaged pills.
The recall affects: Cyclafem 7/7/7, Cyclafem 1/35, Emoquette, Gildess FE 1.5/30, Gildess FE 1/20, Orsythia, Previfem and Tri-Previfem.
Customers can call 1-877-300-6153 between 8 a.m. and 5 p.m. CT to get their questions answered, arrange to return their pills or report problems. Information is also available at http://www.qualitestrx.com/pdf/OCRecall.pdf.
---
[ad]
SOURCE