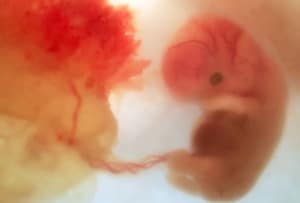 Studies have shown that children born via assisted-reproduction techniques (ART) have a higher risk of being born with a birth defect – about 37 percent higher to be exact. While the reason behind this is still a mystery, a recent study should help ease the minds of parents who are considering ART to help conceive.
In a study that used information on more than 207,000 births, including babies conceived through two of the most common ART techniques – 1,328 by in vitro and 633 by intracytoplasmic sperm injection, results showed that common birth defects among babies born via ART have declined over the last decade. This data also included pregnancies that were terminated due to fetal defect.
Overall, major birth defects, which included cleft lip, hip dysplasia and malformations of the heart, abdominal wall or genitals, affected about eight percent of singleton babies born using an ART. This was compared to about five percent of infants born naturally. So, based on these results, the risk of a birth defect is still higher for infants conceived via an ART. But when researchers compared that data from 1994 to 1998 with the data from 1998 to 2002, researchers noted a substantial drop in the number of birth defects in infants who were born via an ART.
From 1994 to 1998, nearly 11 percent of ART-conceived infants had been diagnosed with a birth defect by the age of six. This was compared to just 7.5 percent from 1998 to 2002.
Michele Hansen, the lead author of the study and researcher at the Telethon Institute for Child Health Research in Subiaco, Western Australia says that the data is "encouraging," but she admits that the reason behind the decline is just as mysterious as the reason why the increased risk is present in the first place. However, she and her colleagues speculate that a number of things may play a part: ART being more widely available, changes made to techniques and how those techniques are implemented are just a few of the possible factors.
"It is very difficult to assess the impact of each of these changes on birth defect risk. However, we believe that changes to laboratory practice…changes to the medications used for ovarian stimulation requiring lower doses and shorter stimulation periods; together with a decrease in the number of embryos transferred may all have had a positive impact on the 'health' of embryos transferred in ART treatments," Hansen said, adding that "Whilst our study does still show that babies born using Assisted Reproductive Technology remain at a higher risk of birth defects, couples seeking ART treatments can be reassured that the vast majority of ART infants are born healthy and do not have a birth defect."
Related Articles:
---
[ad]