One Maryland family had to re-tool their birth plan after Storm Jonas left them temporarily trapped.
John Koloski and his wife Erin turned to neighbors to help them when their baby decided it was ready to come in the middle of the huge blizzard this past weekend.
Both healthcare practitioners, the couple had planned to try for a homebirth, but a big part of their plan was to be able to head to the hospital if complications arose.
Despite a plow and their friends working to dig their car out from under a couple feet of snow, Erin's contractions were too close together to chance it so the couple was forced to deliver at home.
At just after 1:50 a.m. on Saturday, Hannah Francis was born weighing a healthy 7lbs.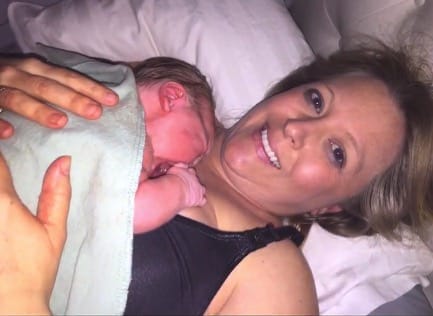 Big sister Hadley was on hand to meet her new sister right away, and Erin's mom and 91-year old grandmother were also at the couple's home to witness the snowy miracle!
Thankfully there were no complications, and mom and baby are doing well.
Congratulations to the family.  Sometimes when life throws you a curve ball the new path is better than the one you were on!
---
[ad]