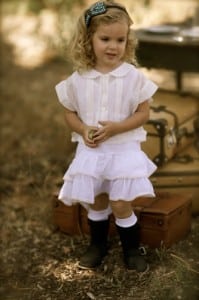 Inspired by the clothing that shaped America, Blu Pony Vintage recreates classic children's pieces with the same care and high-quality materials the originals would have been made in; no synthetic fabrics or plastic buttons are used in any of Blu Pony Vintage's pieces!
The current line draws inspiration from the 1920's, a time when the stiff look of the turn of the century was giving way to more youthful styles for men and more feminine styles for women.
Blu Pony Vintage style for boys includes simple collarless linen shirts, cotton pants, denim vests and overalls and a simple white tee. For girls the Spring/Summer 2011 collection includes sleeveless seersucker sailor-style dresses, sweet sleeveless dresses with dropped waists and beautiful cotton lace along the hem, darling dresses with cap sleeves and a lovely light linen jacket.
The color pallete for the spring/summer 2011 collection contains denim, a soft beige and a natural linen.
For the perfect timeless look and quality clothes made without a label across the front, check out Blu Pony Vintage…we think you'll like it as much as we do!
---
Related Articles:
---