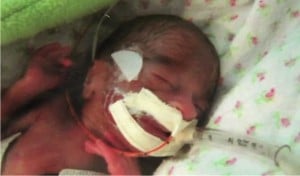 A Wisconsin baby has defied all odds; surviving her early arrival while weighing less than a pound. When she was born three months early and was a tiny 13.3 ounces doctors gave her only a 50% chance of surviving. But Ayana Kelley showed she is a fighter and is now a thriving three months old.
29 year old Alecha gave birth to Ayana at Wheaton Franciscan-All Saints hospital in June. Hospital spokeswoman Jennifer Garbo-Shawhan told the Journal Times she is the smallest baby born in the hospital who fought her chances and survived.
Alecha was 25 weeks pregnant when she was informed that she would have to deliver her baby because of complications with her placenta. Alecha already has a son but was still fearful of the outcome as her sister had previously given birth to two babies who didn't make it past the first 24 hours.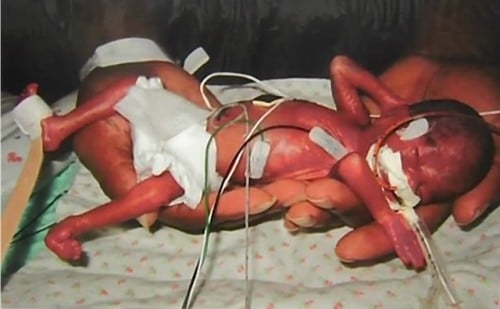 But baby Ayana proved she was a born fighter after she survived past the crucial first 24 hours. Her mother began clicking pictures of her baby girl everyday from then on.
She decided, "Regardless of if she makes it or not, I'm going to celebrate the days I did get."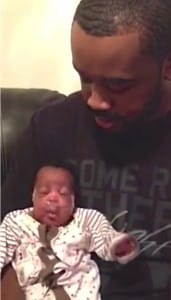 It was not easy for the mom to see her fragile baby in the hospital fighting to live every day. Her legs and arms were tinier than a finger.
Every day Alecha had to drive by Mound and Graceland cemeteries to get to the hospital and she would wonder,
"Am I coming back to the hospital or the next day am I going to the cemetery?"
Then on Sep. 13, just two days before baby Ayana was actually due, she was allowed to go home.
Alecha and Shawn Kelley, who she has been in a relationship with for eight years were ecstatic to finally bring their daughter home.
"I wanted to lock the doors so no one could get her back," Redmond said. "It means the world to me she is at home."
Ayana is now over 5 pounds but still needs her oxygen machine to help her breathe and an apnea monitor to measure her heart rate. But her parents don't mind the machines.
Shawn says he gets to hold his daughter more than the occasional times he could at the hospital.
Alecha says she is also looking forward to the future when Ayana grows older.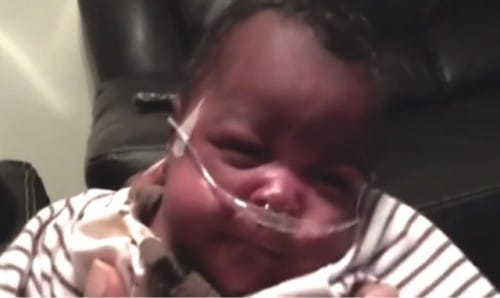 "I'm looking forward to everything," Redmond said. "The first day of school, college, dating, everything."
---
[ad]