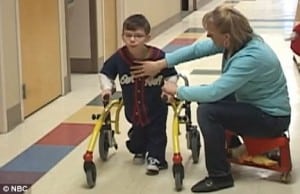 Chase Britton was born prematurely  three years ago and is legally blind. When an MRI scan as a one year old revealed that he was missing the cerebellum part of his brain that was key to controlling emotions, balance and motor skills, everyone thought he would never be able to sit, crawl or walk. However, despite no cerebellum Chase astonished even doctors when he started walking.
Chase's scan revealed that he was also born without pons which are part of the brain stem and help regulate basic functions like breathing and sleeping.  But this brave heart learned to crawl, sit and walk despite the missing parts.
Says mom Heather Britton about her determined toddler, "We call him the Little Gremlin. He loves to play tricks on people. His goal in life is to make people smile. No one had ever seen it before. And then we'd go to the neurologists and they'd say, 'that's impossible, he has the MRI of a vegetable'."
Chase and his miraculous movements have stunned the doctors so much that there are many experts now studying his case. Dr Adre du Plessis, chief of Fetal and Transitional Medicine at the Children's National Medical Center in Washington D.C. says,
'There are some very bright, specialised people across the country and in Europe that have put their minds to this dilemma and are continuing to do so, and we haven't come up with an answer.'
For the Brittons, parenthood has not been easy. In 2008 Heather gave birth to another son Trey who unfortunately died at six weeks on the day when he was scheduled for a liver transplant operation.
While pregnant with Chase, Heather suffered complications and doctors closely monitored her pregnancy. Ultrasound images of Chase's brain inside the womb showed a cerebellum. And this puzzled the doctors further as after birth and during his one year old scan, Chase's brain showed fluid deposit instead of the cerebellum and the pon.
Dr du Plessis said, 'That is actually a fundamental part of the dilemma. If there was a cerebellum, what happened to it?'
The doctor also adds that Chase is challenging 'fundamental principles'.  Chase began to crawl when all logic said he wouldn't. He then learned to sit up and is now able to walk using a frame. He has also started attending a special pre-school near his home in New York.
He also spends time in his special 'sensory room' at home.
Says Heather, "Chase is extremely healthy and he's extremely smart – his motor skills just haven't caught up yet. People could view this as a tragic story. But that depends on how you look at life. You can be angry or you can appreciate what you have been given."

'Chase was meant to be with us.'
This toddler is sure to defy more odds and question scientific truths as he grows older and stronger. – Atula, Staff Writer

---
[ad]