Babies who are bottle-fed may eat more than breastfed babies a new study shows. Researchers suggest this may explain the link between breastfeeding and decreased risks of obesity.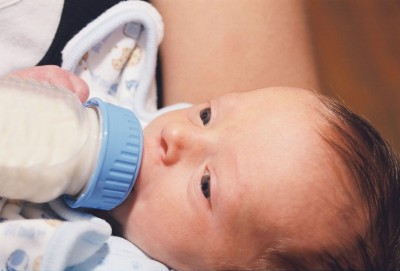 A team from the U.S. Centers for Disease Control and Prevention followed 1,250 infants followed for the first year of life to see if how they were fed affected their later eating habits. According to their findings, infants who were breastfed had a greater ability to self-regulate how much they ate, decreasing their risks of obesity. Hormones found in breast milk, such as leptin and adiponectin, also help stimulate an infant's ability to regulate their appetite.
Dr. Ruowei Li, the lead researcher for the study, found that infants who were breastfed were less likely to drink a cup or bottle until empty than those who were formula fed. Only 27 percent of the breastfed infants finished full cups always or most of the time, while those who were formula-fed finished full cups at 54 percent. This pattern was seen even in those who were fed breast milk in bottles.
Dr. Li points out that there are many factors that come into play with obesity. How an infant is fed is only one small factor, yet an easy one to control from early on. Infants who are fed via bottles are often expected to finish a bottle, even past the point of being full.
"You don't have to push until the bottle is empty," Dr. Li said.
When an infant is breastfed it is able to control how much milk is consumed and is more able to stop feeding when full. This allows a breastfed infant to be able to develop and understand his own internal appetite cues. – Summer, staff writer
Related Articles: