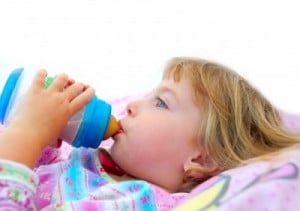 Two-year-olds who still enjoy their milk in a bottle may suffer from obesity by kindergarten says a study conducted by researchers in Temple University in Philadelphia. Although the researchers are not sure if long-term bottle feeding is directly to be blamed, but they still feel it is best to wean a child by age one.
The study published in the Journal of Pediatrics was conducted on 6,750 U.S. children. It was found that kids who were still drinking from bottle by the age of two had a greater chance if being overweight by the age of five.
Currently doctors advise parents to wean their babies off the bottle by the age of 12 to 14 months. But this advice is mainly given to avoid the risk of cavities, tooth decay and also iron deficiency in children.
The present research however also advices weaning after one year of age to reduce the risk of obesity in children.
According to lead researcher Rachel A. Gooze, a doctoral candidate of the university, she and her colleagues found that 1 in 5 toddlers were found to continue using bottles even after the age of 24 months. They either used it only at night or all the time.
By the age of 5 the long term users were found to be overweight with one in every five, while the children who had been weaned earlier it was one in six who were found to be overweight.
The researchers also looked at other reasons that could lead to an increase in weight like family income, mother's weight, whether they had been breast fed or not etc. But they found that bottle feeding alone resulted in 33 percent more risk of obesity in children.
The researchers though think that the result of the findings does not show that it is directly bottle feeding that is making children obese but only that the bottles may be leading to higher calorie intake in the toddlers.
"The bottle may be providing a source of comfort, rather than meeting nutritional needs," Gooze said.
As an example the researcher points out that if an average 2-year-old girl drinks an 8-ounce bottle of whole milk at bedtime that would meet 12 per cent of her calorie needs for the day.
Another expert Dr. Marc S. Jacobson, a member of the American Academy of Pediatrics' Obesity Leadership Workgroup feels that the bottle feeding can also indirectly cause the child to not get other nutrients from varied sources.
He points to the frequent complain parents have about their child not eating vegetables and this can be easily tackled if they start early instead of relying on the bottle.
Gradually introducing foods of different tastes, textures and colors into babies' and toddlers' diets is a good way he points.
The doctors also stresses that six months of  breastfeeding also helps is reducing childhood obesity. After that they can be gradually introduced to solid food.
"A lot of the public discussion about the obesity epidemic has been about fast food, junk food and soda," Jacobson said. "But there are also infant feeding issues associated with obesity."
The researcher says that it is often hard for parents to wean the toddler from the bottle to the feeding cup because of the comfort factor involved especially during nights, but according to Dr. Jacobson, it is a necessity.
The earlier children graduate from bottles to cups and solid food the better therefore it is for them to get a healthy start in life.
Related Articles:
---