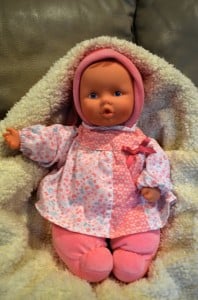 I am little obsessed with Corolle dolls and it appears I'm not alone.  When two arrived a couple weeks ago, my three year-old son immediately called the BabiCorolle Babipouce doll his and made me rescue it from its box immediately.
Once out, he started running around the house looking for a place for it to sleep.  But not before he asked me to 'nurse' it.  I guess being cooped up in a box makes you hungry.  And while I was laughing at his demands, I was a little proud that he was being so caring and he remembered that was how babies were fed(at our house).
For the last couple weeks our Babicorolle Babipouce doll has been his constant companion.  She watches TV with him, sleeps with him and most recently kept him company while he was holed up on the couch sick for 4 days last week.
While out shopping the other day we passed a store that had a full Corolle display in the window.  Noticing it immediately, he insisted we go and to see if there was another one he could add to his collection.  The funniest part was when he lifted up the Mini Calin baby dolls that were not boxed and started smelling them, almost as if he was checking to see if they were real!  Corolle dolls have a signature vanilla smell that is everlasting and apparently, something my son is fond of.
Perfect for little ones from birth+ our BabiCorolle Babipouce doll is completely soft with the exception of her face and tiny hands, which are a soft vinyl.  Ours was created in a seated position, which makes her easy to sit with or cradle like a baby in your arms.  Only about 11″ tall(8″ when 'sitting'), she is ideal for small children who aren't able to lug around a regular dollie and would pack up easily if you were headed out.  She is also machine washable(air dry only), which is nice because we all know nothing stays clean when it is being transported around the world by a toddler.
Corolle has been creating dolls for more than 30 years and they are constantly introducing new designs, fashions and accessories to increase the play value of their collection. Knowing the strong connection kids create with their dolls, Corolle dolls are designed to be durable to withstand all the 'loving and hugs their beauty and charm inspire'.
I always thought I needed to have a girl to have a little one in the house that wants a doll.  But I guess I was wrong. Babicorolle has become my guy's best friend, which is sweet to watch.
Our Babipouce is pink, but Corolle also makes a blue one for parents looking for something for a boy.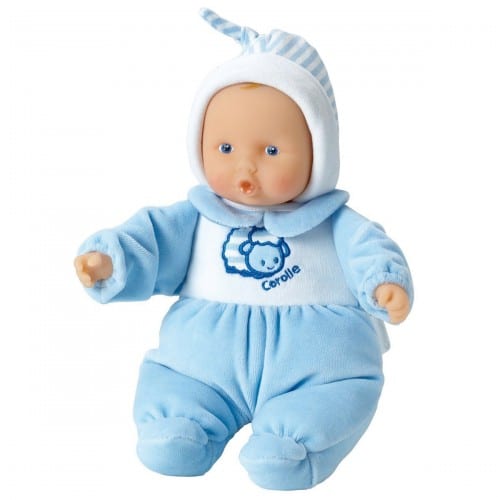 To see their whole collection please visit Corolle.com
---
[ad]