You would think that with an acting career, a long-term relationship and six kids, Angelina Jolie would be done with pregnancy, but in her recent interview with Marie Claire, the stunning 36-year-old actress revealed that she and long-term partner Brad Pitt haven't ruled out adding a new member to the family.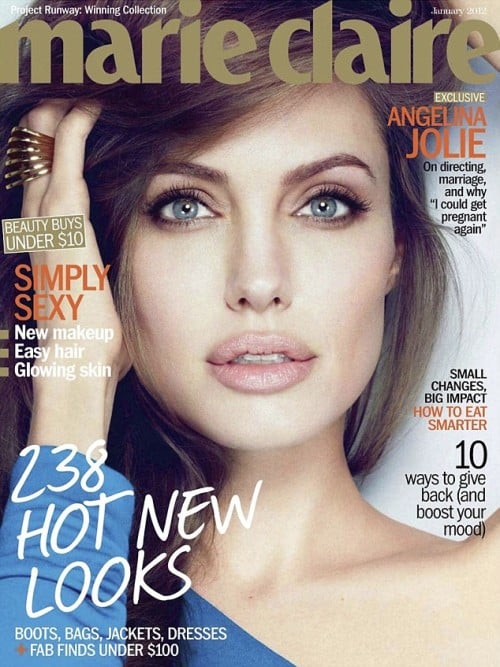 "Nothing planned at the moment, but we just don't know. I could end up pregnant," she says. So how is it that she could even consider another child when she already has six children, a busy acting career and tons of charitable obligations? She attributes some of her ability to hold it all together to having Brad as her partner.
"I have a wonderful partner in Brad and we take turns working always," she shares. "Brad has expanded my life in ways I never imagined. We built a family. He is not just the love of my life, he is my family. I hold that very dear. I suppose what I've learned from Brad is to be able to have the kind of family whose happiness and well-being comes before your won. I'm very, very grateful to have such a loving family, and I wouldn't have that without him."
Angelina also confessed that the children have asked when the couple might make their relationship legal.
"They have mentioned it, yes. If you take it in an emotional way, you think, 'Ohhh, the children!' They don't feel secure enough! But then you think, 'Now, wait a minute: They think a wedding is a party with a four-layer tiered cake!'"
She says that, really, the children find security in the couple's affection towards each other. "If they see Mommy and Daddy in need of some private time 'cause they're going to kiss and whatever,' the kids get all giggly and happy. Because it gives them some security," she shares. So, from the sounds of it, the couple has no plan to change their decision to wait for wedding bells until all couples in the U.S. can be married.
But don't get too jealous ladies. Angelina may be partners with the sexy Brad Pitt and make parenting look easy, but she confesses that she is missing something important from her life – she doesn't spend much time with other women.
"Well, I have a few girlfriends," Angelina reveals. "I just…I stay at home a lot. I'm just not very social. I don't do a lot with them, and I'm very homebound."
But the actress does have one close friend – Gwen Stefani. Gwen and Angelina have been spotted together previously at Gwen's home in London for a play-date, and their friendship dates all the way back to 1998. "Somehow Gwen and I keep ending up pregnant at the exact same time," she says.
Gwen and Angelina definitely make an interesting pair, considering Gwen definitely is more of a 'girly-girl' than Angelina. But Gwen isn't the only one in Angelina's life that is more feminine. Angelina shared in her interview that her daughter, Vivienne loves all things pink.
"She is so elegant and delicate. Vivi will pick flowers from the garden and put them in her hair. She likes to get her nails done and collects stuffed animals," she says, adding, "It's very funny for me to have to buy all things pink and watch princess movies!" Thankfully, Knox balances is out. "Knox is very much a dude. Very physical, tough. He loves dinosaurs and swords."
Related Articles:
---