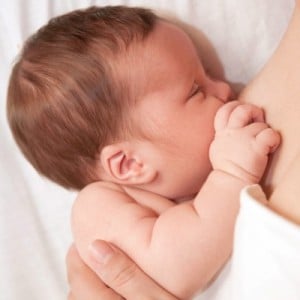 Studies have found numerous benefits to breastfeeding, but a new study has found something we'd never expected. In what is said to be the largest study yet to analyze the relationship between breastfeeding and social standing, the British researchers say their findings indicate that breastfed babies are more likely to climb the social ladder than their formula-fed counterparts.
"Our study adds to evidence on the health benefits of breastfeeding by showing that there may be lifelong social benefits," the British team wrote in their study, published in the journal Archives of Disease in Childhood.
Researchers gathered information on 17,419 people born in Britain in 1958 and another 16,771 born in 1970. Of those born in 1958, 68 percent were breastfed compared to 36 percent of those born in 1970. Social class was compared at ages 10 or 11 to those that were 33 to 34 and over the following years through regular follow-ups. Classes were then categorized on a four point scale that ranged from unskilled or semi-skilled to professional or managerial. Other factors like brain development and emotional stress were also taken into account.
"Intellect and stress accounted for around a third (36%) of the total impact of breastfeeding: breastfeeding enhances brain development, which boosts intellect, which in turn increases upwards social mobility. Breastfed children also showed fewer signs of stress," a statement in the journal said.
Authors of the study believe that the prolonged skin-on skin contact, bonding between mother and baby, and a specific chain of fatty acids may be the reason why breastfed babies have a leg up on in the social chain and stress management. However, previous studies have said that the so-called long-chain polyunsaturated fatty acids (LCPUFA's), which are necessary for proper brain development, aren't enough to develop cognitive by themselves.
British researchers did acknowledge that it was impossible to determine which of the factors was most beneficial to the child. However, they hope, with future research, to determine if formula feeding mothers can increase their children's social skills and stress management abilities by mimicking the skin contact experienced by breastfed babies.
Related Articles:
---
[ad]