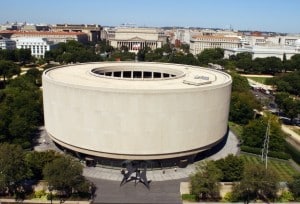 The Smithsonian has apologized to a family after one of their security guards asked a nursing mom to feed her baby in the bathroom – twice.
Noriko Aito was visting the Hirshhorn Museum with her 11-month old daughter when it was time to eat. So she found a comfortable bench and began feeding her daughter out of the way of other visitors. Suddenly a security guard approached her and told her to go to the bathroom to feed her daughter. Aito went as she was told, but found no where to sit. Returning to the bench, she was approached a second time by a guard who told her to sit on one of the museums public toilets to feed her baby.
"I couldn't believe what I heard," Noriko Aito told 9 News Now. "I knew about the law in Maryland, but wasn't sure about D.C."
The family was so taken aback by what happened that they decided to leave the museum.
In D.C., breastfeeding mothers are protected by the Right to Breastfeed Act. It is a federal law that allows women the option of breastfeeding when they are on federal property. The law has been in effect since 1999, but some security staff do not seem to be aware of it.
Aito's family was given a public apology from the museum, who promised to better train their security guards on the rights of a breastfeeding woman. The museum responded ia Facebook to the family to offer their apology.
"We have responded to the mother's complaint and have made our security staff aware of the federal law allowing women to breast-feed in any public or private location," the statement said. "We regret that this incident occurred and we apologize for the frustration it has caused."
To voice their opinion, many Washington women held a "nurse-in" at the museum on Saturday morning. The point of the "nurse-in" was to draw more awareness to breastfeeding mothers and their rights in the D.C. area.
"This is not a protest against the Hirshhorn. There were laws and policies in place." said LJ Pelham, organizer of the nurse-in. "This happened because there was a lack of education and awareness. We want to ensure women know their rights and that it doesn't happen to anybody else again."
D.C. also has a Human Rights Act of 1977 which covers breastfeeding under sex discrimination. – Summer, staff writer
Related Articles:
---
[ad]