A breastfeeding advocate group, "NIP" or "nursing in public," has been behind some of the most recent movements in breastfeeding, including a national "nurse-in" to promote the acceptance of breastfeeding in Target stores. Now that they've completed that mission, they're on to some basic child's play…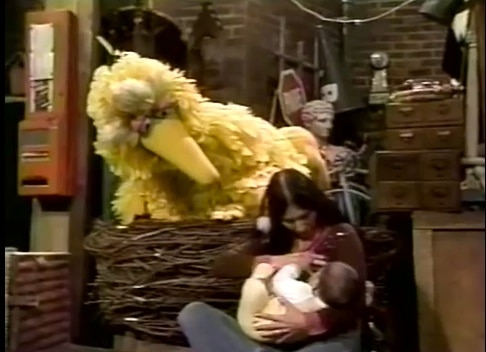 We all grew up with Sesame Street, and while you may remember Grover, Big Bird, Maria, the Cookie Monster and Snuffie, you may not remember that breastfeeding was actually integrated into the storyline back in the 70's. Proclaimed the "You're My Baby" segment, Maria and Buffy both nursed babies on-screen. The storyline also included a music video with a breastfeeding mother in it.
Sherrie Westin, executive vice president of Sesame Workshop denies that there is any anti-breastfeeding agenda on the show and that the Street's only goal is to provide educational television for preschoolers.
"There has never been any edict to remove breastfeeding from the show," Westin stated. "We have included it and absolutely would include it again if it were a natural part of the storyline."
But according to NIP, not finding a way to incorporate breastfeeding into the show for the last twenty years is a problem. Since the 80's, the Street has only shown babies being fed with a bottle. They feel that the lack of breastfeeding on the show creates and displays a bias towards bottle-feeding. Because of this, the group recently started a petition to try and bring breastfeeding back to Sesame.
"Back in the 70's and 80's, nursing was tastefully shown on the show, but now they have replaced their nursing videos with bottles," the petition states. "We are not asking Sesame Street to remove bottle feeding. We are asking that both ways of feeding babies be shown as normal. If we normalize breastfeeding in our community, especially with our children, we can help raise a generation of breastfeeders, which will support our economy, make for healthier children and lessen the risk of breast cancer for many nursing mommas!"
But not all children watching the show will have been breastfed. And while it may be true that the American Academy of Pediatrics recommends nursing for at least the first six months exclusively, there are many parents that don't. Would breastfed infants on the show really influence the future of breastfeeding? Candice Fisk thinks so.
"No one I knew growing up breastfed their children," stated Fisk, a signer of the petition. "The first time I ever saw breastfeeding was on Sesame Street as a little girl. I thought it was a beautiful thing to be able to do as a woman. It may be the reason that I first thought to breastfeed my own children."
Do you think breastfeeding on Sesame Street is appropriate? Do you think it could impact the next generation of mothers? The answers to these questions may not be very black-and-white, but it will be interesting to see what happens in the end.
Related Articles: