This Thursday night WE TV gets in on the 'mega multiple' hype with Raising Sextuplets starring Brian and Jenny Masche's 6 children.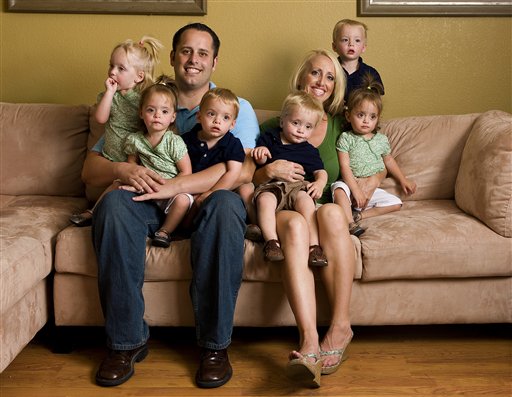 A four-person crew has been filming the Masches for the new series since the kids were just a few months old. (It follows up on "OMG! Sextuplets!" — a documentary on Jenny's challenging pregnancy that premiered a year ago, and re-airs just before the premiere of Raising Sextuplets).
"It ended up being a lot of fun," says Jenny by phone, with her husband and their kids in proximity. "Around five days of each month, when the crew was around, we got a little break from the routine, we got to have some friends around _"

"_ and a few extra hands," added Bryan gratefully.
Since the Masches admitted cameras into their world, other series about multiples have flourished: TLC introduced "18 Kids and Counting" and "Table for 12."
The couple addresses the differences between their show and Jon and Kate plus 8, which has recently burst into a tabloid spectacle.
"At first, the Jon-and-Kate stuff made me scared," Jenny acknowledges. "I was thinking, 'Omigosh, why are we doing this?' But then I started thinking, and praying, and I realized that so far it's been a real blessing for us."

She says during her pregnancy, she had gotten phone advice from Kate (whose sextuplets just turned 5). She calls the harsh publicity and marital discord plaguing the Gosselins "sad and heartbreaking."

"We need to not only learn from others' mistakes, but have some boundaries put in place, and pray for wisdom that we can stay strong and united," says Jenny, who wed Bryan in 2004. "We really have to focus on our marriage — because it's hard."

WE tv President Kim Martin says "Raising Sextuplets" is different from its by-now-notorious predecessor because, quite simply, the Masches are a different family.

"Jenny and Bryan are grounded," Martin says. "They are nice people raising six kids in a really healthy environment." And they draw on a community of friends and extended family, she adds.

Whether or not the series continues for a second season, the Masches' support system has been assigned to give them regular reality checks, says Jenny, to help insure TV exposure doesn't lead the family astray.

"We don't pretend to be high-and-mighty," says Bryan, whose wife agrees: "We told everyone around us, `If you EVER see us going in a certain direction that isn't right, hit us! Put us in our place!'"
The show premiere's Thursday night at 10pm on WE TV with Bailey, Savannah, Cole, Grant, Blake and Molli celebrating their second Birthday.
Related Articles:
---
[ad]