Congratulations to Bridget Moynahan and ex-boyfriend Tom Brady on the safe arrival of their first baby.
Bridget gave birth to a baby boy at a Santa Monica hospital yesterday.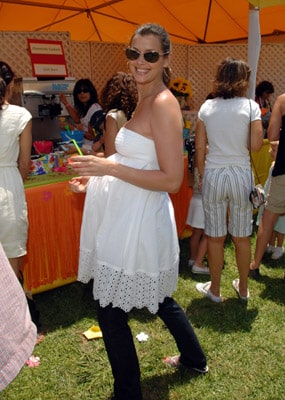 "Mother and baby are doing well," Moynahan's publicist, Christina Papadopoulos told the Track.
No details are available yet on the baby's name or weight.
The announcement came tonight after the Brady Baby Watch went to Defcon 1 because the New England Patriots QB/QT skipped practice to fly to the Left Coast for the birth of his child.

Word from locker room spies was that Brady told the team he was taking care of a "personal matter." "He flew to California and she was having the baby today."
It is believed that Tom would be back for Friday night's game against the Carolina Panthers in Charlotte. It is the third and most important of the team's pre-season tilts.
Since Brady would normally sit out the last game, (the Giants on Aug. 30), he could return to L.A. after the Carolina game for all kinds of serious baby bonding.

Officially, the Patriots were mum on the QB's whereabouts today. Team spokesman Stacey James said he wasn't sure where No. 12 was or why he wasn't at practice.

Earlier this week, Brady told the media that he wanted to be present when his offspring makes his or her debut.
"I hope so," he said. "I'm sure when it happens it's a matter of scheduling with what's going on with the team.'
Brady and Moynahan broke up last November and, almost immediately, Brady began dating supermodel Gisele Bundchen. Moynahan announced she was pregnant in February.
SOURCE
---