Bridget Moynahan taped an appearance on The Martha Stewart Show this morning to promote her show Six Degrees.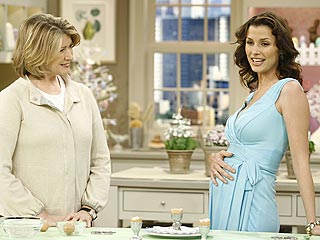 In true Martha fashion she commented on Bridget's expanding belly by saying, "Now wouldn't you like to look like that?" to her studio audience while taping the interview, set to air on Monday. "What month are you in?"
"This week [it'll be] five months," said the Six Degrees actress, 35, who announced in February that she's expecting her first child with her ex-boyfriend, New England Patriots quarterback Tom Brady.
"Five months pregnant!" Stewart said. "Are you excited about being a mom?"
"I am. I'm a little nervous, 'cause I haven't done it before," said Moynahan. "But, you know, I have little nephews, and it's always nice to spend time with them, especially around the holidays."
Brady and Moynahan split late last year after three years together, but a spokesperson for the football star said last month: "Tom and his family are excited about the pregnancy."
And a friend of Moynahan's told PEOPLE that the actress is "so excited about the pregnancy – she knows she'll be a great mom."
---
[ad]