Noel Radford, the baker, and his wife, Sue, notoriously known for always having 'a bun in the oven,' have just welcomed their 16th child!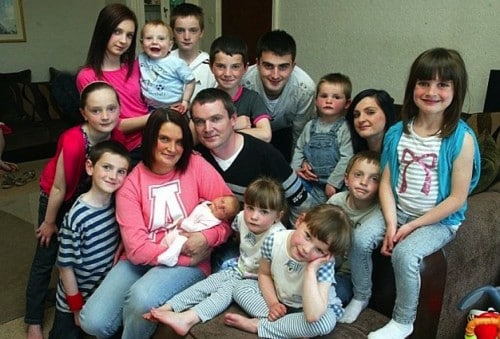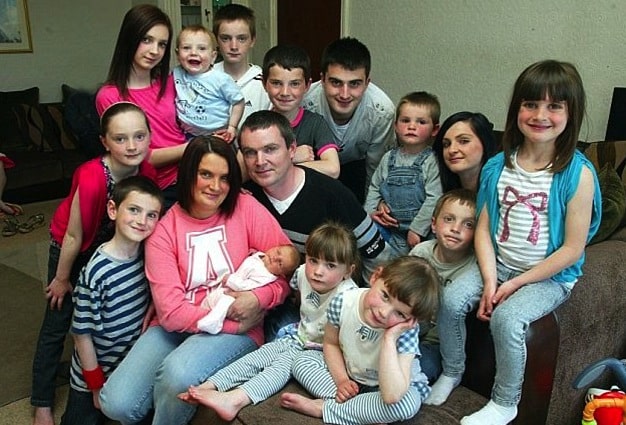 The newest arrival, Casper, was born at a healthy 8 pounds, 8 ounces in just 16 minutes. He is joining what is thought to be Britain's largest family. The brood which includes Chris, 23; Sophie, 18; Chloe, 17; Jack, 15; Daniel, 13; Luke, 11; Millie, 10; Katie, 9; James, 8; Ellie, 7; Aimee, 6; Josh, 4; Max, 3; Tilly May, 2; Oscar, 1; and now Casper, 1 month.
And while the brood would be enough to make the heads of most parents spin, the couple had just returned home when Sue announced she was ready for another one.
"I just love being a mummy," Sue told Daily News. "We are so lucky. I get very emotional when I see the children all together."
According to the couple, that's pretty much how it's been since the beginning. Both Sue and Noel were teenagers when they started their family and Sue was still in school. For most couples, the unexpected pregnancy could have meant disaster, but for the Radfords, it was the beginning of a big and beautiful family.
At first, they'd only wanted 'perhaps another one or two children' after the birth of their eldest son, Christopher. But after having Sophie and Chloe, Sue and Noel realized they were having so much fun parenting that they decided to keep going.
While pregnant with Daniel, the couple realized that their current house wasn't big enough to hold their growing brood. They discovered a nine-bedroom Victorian house that used to be a nursing home and they've never looked back. As fast as each room was decorated the Radfords occupied it with children.
So what's a day like in a house of 18? Mr. Radford heads off to work at 4 in the morning. He gets back just in time to help out with the school run, a feat that requires a minibus. The typical dinner includes the peeling of seven kilos of potatoes. Those potatoes are then cooked in industrialized-sized pots with 30 carrots and three whole cabbages. To go with all those veggies, the Radfords cook up 16 pork chops. And that's just dinner! The family consumes two boxes of cereal, 18 pints of milk and two loaves of bread each day. The average grocery bill comes out to about £250 per week.
Somehow, the couple manages to pay for all their food and goes day to day without losing a single child. What's even more astonishing is that this family manages to take an annual holiday abroad! One of their recent vacations was featured earlier this year on a Channel 4 documentary, 15 Kids and Counting.
Still counting and totally unaffected by the stares that others give, the Radfords are hoping to add to their very large brood.
"I know people stare," Sue said. "Some think they won't get the attention they need, but people don't realize how dedicated we are…And maybe we'll be lucky enough to have more."
Related Articles:
---