If I were to guess, I would think someones getting fired over this. Tesco has been forced to remove a pole-dancing kit from the toys and games section of its website after it was accused of "destroying children's innocence".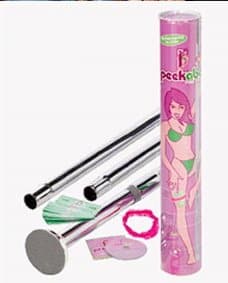 The Tesco Direct site advertises the kit with the words, "Unleash the sex kitten inside…simply extend the Peekaboo pole inside the tube, slip on the sexy tunes and away you go!
"Soon you'll be flaunting it to the world and earning a fortune in Peekaboo Dance Dollars".
The £49.97 kit comprises a chrome pole extendible to 8ft 6ins, a 'sexy dance garter' , 'peekaboo dance dollars' and a DVD demonstrating suggestive dance moves.
The kit, condemned as 'extremely dangerous' by family campaigners yesterday, was discovered by mother of two Karen Gallimore who was searching for Christmas gifts for her two daughters, Laura 10, and Sarah, 11.
Karen told the Daily Mail,  "I'm no prude, but any children can go on there and see it. It's just not on."
Dr Adrian Rogers, of family campaigning group Family Focus said yesterday that the kit would "destroy children's lives".
He said: "Tesco is Britain's number one chain, this is extremely dangerous. It is an open invitation to turn the youngest children on to sexual behaviour.
"This will be sold to four, five and six-year olds. This is a most dangerous toy that will contribute towards destroying children's innocence."
Adding, "Children are being encouraged to dance round a pole which is interpreted in the adult world as a phallic symbol.
"It ought to be stopped, it really requires the intervention of members of Parliament. This should only be available to the most depraved people who want to corrupt their children."
Tesco today agreed to remove the product from the Toy section of the site, but said it will remain on sale as a Fitness Accessory, despite the fact that the product description invites users to "unleash the sex kitten inside".
I am at a loss for words. What were they thinking directing this product at young girls? Did they think no one was going to say anything?
I also found another site called findmeagift.com in the U.K. that was also gearing this towards kids as well.
"The Peekaboo Home Pole Dancing Set is a godsend for boys and girls alike! From the Pussycat Dolls to Gwen Stefani, Christina Aguilera to Carmen Electra, erotic dancing is enjoying new heights of popularity. It's not only fantastic fun, but a very fashionable fitness aid."
Note to retailers: Pole Dancing is not a fun game for kids. Just because some popstars choose to use it in their videos doesn't mean kids should learn how to do it. Please stick to marketing your crap to adults!
SOURCE:dailymail
---