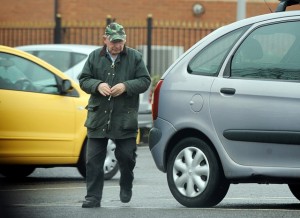 Gerry Burks turned 75 yesterday, but that's not the only reason why he's celebrating.
On March 12th the retired truck driver became Britain's oldest father after his 41-year-old wife Dawn welcomed their second child.
Baby Ryan, who was conceived naturally, arrived by caesarean section weighing 5lb 7oz. Initially Ryan was placed in the special care nursery because he was having breathing problems.
He is now thriving at home and the couple is not ruling out having another baby. Gerry told the Sun:
'Our family is complete now and I don't think we'll be having any more children. But who knows? I will be keeping myself healthy by running around, helping Dawn with the baby and looking after Daniel.'
When asked what was the secret to his virility, the new dad responded Bananas! The fruit is rich in potassium, zinc and vitamin B, which increase energy and aid fertility.
'I eat lots of bananas and always have done. I don't eat much salt and have home-cooked food.'

'People might say things about my years, but I look after myself. I'm young at heart. I don't drink or smoke now, and Dawn's pasta bake keeps me in good shape.

'Maybe that's what's kept my body healthy. But I think the love of a good woman has a lot to do with it, too. I'm just doing what comes naturally.'

'I feel like the luckiest man alive.'
The new addition joins the couple's son, six-year-old son, Daniel, and Gerry's three children from a previous marriage.
The world's oldest father is Indian farmer Nanu Ram Jogi, who had his 21st child aged 90 in 2007.
Businesswoman Elizabeth Adeney, 66, became Britain's oldest mother last year after traveling to the Ukraine for IVF because the NHS refused to treat women over the age of 50.
Other Unusual Birth Stories:
---
[ad]