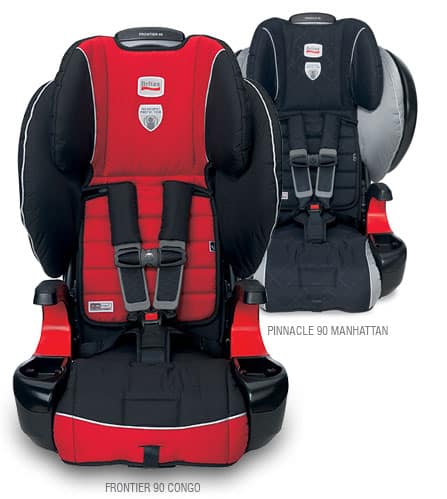 As a mom, my boy's safety while we are out is very important.  So much so, my 7-year-old is still in a 5-point car seat and I plan for it to stay that way for a while.
Thankfully car seat manufacturers are doing their part to ensure that as my boys get bigger there are options to keep them safe.
Yesterday Britax announced their new ClickTight Technology, which allows parents to achieve a safe and secure installation every time.
It is estimated that as many as 9 out of 10 child car seats are not installed correctly.  Crazy right?  In recent years manufacturers have  worked to create a seat that is easier to install and that continues with Britax's new system.
With just three simple steps, ClickTight allows parents to easily install the new seats with the vehicle seat belt and eliminates the frustration of putting their weight in the seat or getting into the vehicle to install the car seat.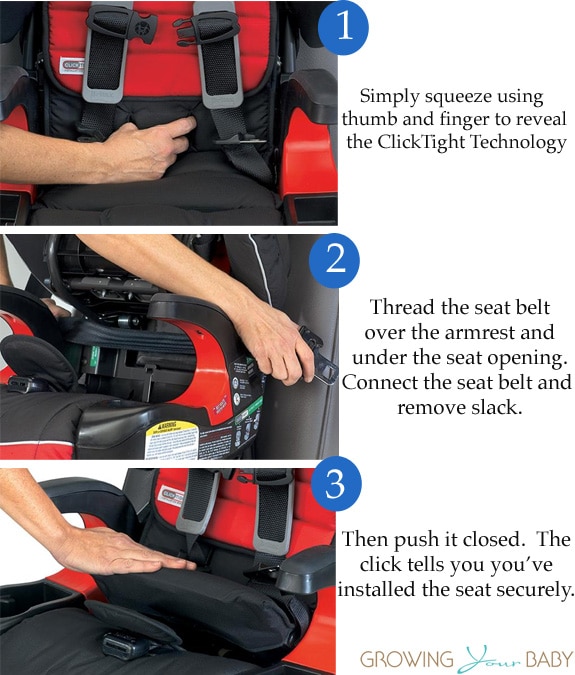 *You also must tether the seat using the tether hook to an approved tether anchor at the back of your seat.
Many caregivers use vehicle lower anchors, part of the LATCH system (Lower Anchors and Tethers for Children), to secure car seats. They are unaware that all vehicles have lower anchor weight limits. When a child's weight exceeds the weight limits or restrictions, car seats should no longer be installed using the lower anchors. Instead, the car seat must be installed using the vehicle seat belt system. The new Britax ClickTight installation system allows parents to use the vehicle seat belt to achieve a safe and secure installation throughout the life of the seat, in harness mode, without worrying about the child's weight.
"Our Frontier 90 and Pinnacle 90 seats are the easiest to install on the market today," said Curtis Strong, Director of New Product Development at Britax. "These seats are designed with Britax's revolutionary technology, safety features and unparalleled ease-of-use. Once parents hear the 'Britax click,' they'll know their child's seat is safely and securely installed."
Both seats feature Britax leading safety technologies, offering superior head safety protection. These components include SafeCell Technology® that compresses and lowers the center of gravity and reduces forward head movement, integrated steel bars that strengthen the seat's connection to the vehicle, reducing forward-flexing, and energy-absorbing Versa-Tether®, which is a patented stage-release tether designed to slow forward movement.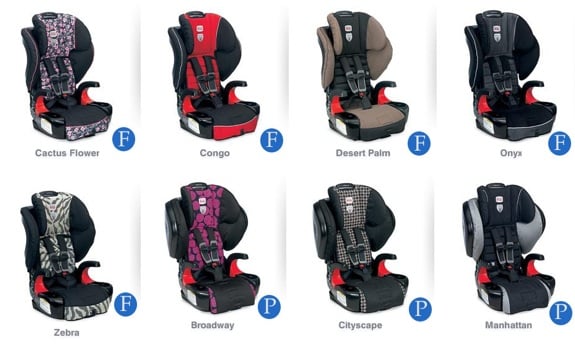 According to the National Highway Traffic and Safety Administration, three out of four vehicle crashes occur from the side. All Britax seats feature side impact protection to shield baby in the event of a side collision. Both Frontier 90 and Pinnacle 90 feature True Side Impact Protection® that provides an extra layer of EPP foam to contain a child's head, neck and body and keep her aligned in the event of a crash. The Pinnacle 90 also features energy-managing Side Impact Cushion Technology™, which diverts crash forces away from a child and provides extra protection for the adjacent passenger.
Beyond superior safety, the Frontier 90 and Pinnacle 90 offer many ease-of-use elements to make any parent smile, including their ability to convert from the 90 pound harness mode into belt-positioning boosters that can be used by children weighing up to 120 pounds. Both seats feature an EZ-Buckle system that holds the buckle forward, thereby eliminating the struggle to find the seat buckle from underneath the child. The seats also include a tangle-free, no-rethread adjustable harness, a front-adjust recline, integrated cup holders and storage, multiple buckle positions, fixed armrests, comfort foam and an easy-remove cover.
"At Britax, we remain at the forefront of innovation, as demonstrated by the ClickTight Installation System," said Jon Chamberlain, president of Britax. "It is a unique technology that enables successful and secure car seat installations every time. And, importantly to our community, these new seats are assembled in the USA."
The Britax Frontier 90 (MSRP: $329.99) and Pinnacle 90 (MSRP: $369.99) will be available at mass, online and independent retailers in a variety of fashions in late spring.
---
[ad]