The National Highway Traffic Safety Administration Vehicle Safety in cooperation with Britax Child Safety, Inc. (Britax), has announced a voluntary recall of 207,037  chest clips on certain Britax B-Safe 35, B-Safe 35 Elite and BOB B-Safe 35 infant seats manufactured between Nov. 1, 2015 and May 31, 2017 because they could break causing a choking hazard for infants.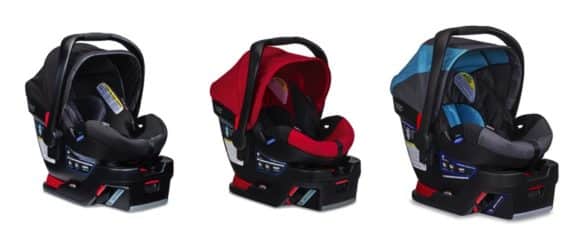 There have been no choking injuries. Britax is announcing the recall out of an abundance of caution.
Users can continue to safely use the affected car seats if they remove the chest clip or monitor the center tab of the chest clip for signs of breakage. The chest clip is not a required safety device: it is added to the harness system to help position the shoulder straps.
Consumers with questions should visit www.bsafe35clip.com where they can follow these steps:
1.             Look for the Date of Manufacture (DOM) label on the back of the infant car seat shell.
2.             Compare the DOM details to the model numbers and date range listed on the site.
3.             If your seat is affected and you registered your seat, you will automatically be sent a free replacement chest clip.
4.             If your seat is affected and you didn't register your seat, you can order your free kit on www.bsafe35clip.com.
5.             Until you receive your replacement chest clip, you can continue to safely use the car seat as long as you remove your current chest clip or monitor the center tab of the chest clip for signs of breakage.
6.             Before installing the new replacement chest clip, review the printed step-by-step instructions and/or watch the how-to video on the site.
7.             Do not return product to the retailer.
The following model numbers are affected:
B-Safe 35 & Travel Systems
E1A183F, E1A185M, E1A185P, E1A186R, E1A203F, E1A205M, E1A205P, E1A206X, E1A206Z, E1A207E, E9LU65V, E9LU66X, E9LU66Z, E9LU67D, E9LU67E, EXA185M, S02063600, S02063700, S03803400, S03803500, S03803700, S03803800, S03803900, S04144400, S04144500, S04144600, S04145000, S04402800, S04884200, S04884300, S04975600, S04978900, S05260200, S06020300, S06020400, S06020500, S06020600, S06020700, S06020800, S06020900, S06147100, S921800, E1A193F, E1A195M, E1A195P, E1A196X, E1A196Z, E9LV16R, E9LV17D, S04144700, S04144800, S04144900, S04183700, S04183800, S04437700, S04884400, S04884500, S06051400, S06051500, S06051600, S06051700, S06051800, E1A233F, E1A235M, E1A235P, E1A236X
Warranty Replacement Part: S03421600
B-Safe 35 Elite & Travel Systems
E1A215T, E1A215U, E1A216P, E1A221Q, E1A225C, E1A225U, E1A226L, E9LS51Q, E9LS56C, E9LS56L, E9LS57F, E9LS57G, E9LS57H, EXA216L, S01298600, S02063800, S02063900, S02064000, S04281200, S04281300, S04628500, S06018800, S06020000, S06020200, S92370, E9LV21Q, E9LV26C, E9LV26L, E9LV27F, E9LV27G, E9LV2Q8, S01298700, S04184000, S06051300, E9LT15U, E9LT16C, E9LT16L
BOB B-Safe 35 by Britax
E9LT34A, E9LT34C, E9LT35X, EXLT34A, E9LT54A, E9LT54C, E9LT55X
NOTE: No other products are included in this recall. If your Britax product has a different model number than listed in the chart or it was manufactured before November 1, 2015 or after May 31, 2017, it is NOT included in this recall.

Britax will notify owners and will provide a replacement chest clip marked "PC", free of charge. The recall is expected to begin June 21, 2017. Owners may contact Britax at 1-833-474-7016
---
[ad]