Britax has been a leader in mobile safety for over 70 years now.  From their car seats, strollers and carriers it's clear that their dedication to improving child safety is unparalleled, as evidenced by the fact that their products undergo the most rigorous testing in five Britax testing facilities worldwide.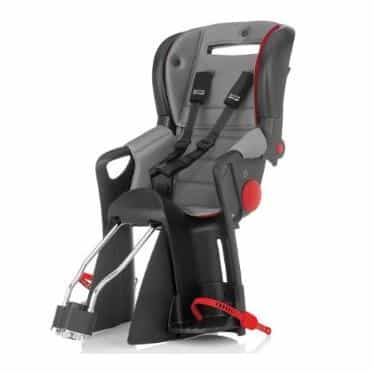 We are excited to announce the newest addition to the Britax collection – the Britax Child Bike Seat!  The Britax Child Bike Seat has been offered by Britax Europe for more than 30 years, and is the number one child bike seat in Germany.  Now coming to North America the seat has been thoughtfully engineered to ensure easy, safe travel for active parents and their children, it has an innovative Click & Cruise bracket which makes seat attachment and removal quick and convenient for parents on the go. As a bonus for active families, parents may also purchase extra Click & Cruise Brackets (MSRP: $39.99) to easily switch the bike seat to different bikes.
"Family travel and recreation should be stress free and fun. Parents look for safe easy-to-use products that make the experience hassle-free and enjoyable," said Joyce Kara, product manager at Britax. "That's why we designed the Britax Child Bike Seat with an easy attachment system, premium safety features, and many adjustable settings to make biking more fun for the entire family."
Designed for children age nine months to four years, and up to 40 pounds, the seat easily adjusts as the child grows. There are three adjustable features: a nine-position headrest, 15-position footrests for proper leg positioning, and a two-position recline.
The built-in suspension provides comfort for your little ones and parents will be happy to know that the seat pads can be removed for machine washing and revered from red to gray allowing the versatility of two color options.
With the same superior protection we've come to expect from Britax the Child Bike Seat features a tall backrest, deep side walls and a harness to secure your child in.  Also included are integrated spoke guards and foot belts that will ensure that little feet are kept safe and out of the way.
Designed to fit most bikes with a 26-28" (66-71cm) diameter wheels and with a tube diameter of 1 1/8 – 1 7/16" (28-36mm) the Child Bike Seat is now available on Amazon.com (MSRP $169.99 USD).
Product Features:
Safety harness with shoulder pads for comfort
Tall backrest and deep side walls surround your child with protection
Large integrated spoke guards and foot belts to keep child's feet safe
Built-in suspension for child comfort on bumpy roads
One-hand, 9-position headrest and harness adjustment for optimum child fit
2-position adjustable recline
15 foot rest heights for proper leg positioning
Comfortable, breathable padding is reversible (gray/red), removable, and machine washable
Click & Cruise Bracket for ease of attachment and removal of the child bike seat. Additional Click & Cruise Brackets sold separately for second bike.
Premium adjustability for harness, head rest, foot rests and recline
Related Articles:
---
[ad]