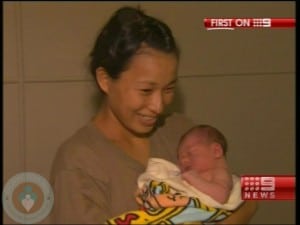 A British midwife spending her 25th wedding anniversary on holiday in Queensland, helped deliver a baby girl in an evacuation center while Cyclone Yasi raged outside.
After tourists and residents on the North Queensland coast were evacuated to the Redlynch State College, Carol Weeks and her husband Andrew had hunkered down for a long night when Red Cross requested some help.
"Someone said: 'Is there someone medical in the room?' and I said: 'I'm a midwife' and they said: 'Oh good, there is a baby due tomorrow'," Mrs Weeks told a local news station.
Carol then spent the next three hours helping mom-to-be, Akiko Pruss, deliver her baby girl in the college's first aid room.
Akiko had arrived at the evacuation center with her husband, Christian, and her mother who had flown from Japan, "armed with some nappies – just in case."
Healthy and right on schedule, the girl arrived at 6.09am after a short, three-hour labour.

"The baby is doing great," Mrs Weeks said.
"She's breastfeeding and mum's wonderful," she added. "Everything went absolutely perfect."
Akiko had planned to give birth at home, but Cyclone Yasi hit, which sent her to the College. Once it was safe, the new mom and baby were moved to the local hospital.
Two other babies arrived during Cyclone Yasi, both at the Innisfail Hospital.
Queensland state premier, Anna Bligh said, "In the midst of all of this devastation, new life in some very touching circumstances.  I'm sure it will bring a lot of smiles to faces in that centre today after such a difficult and distressing night.

"I understand the mum in the evacuation centre has ruled out calling her baby Yasi, and I suspect the other two mums will do the same."
Related Articles:
---
[ad]