We've shared plenty of heart-stopping stories on babies crawling out onto roofs of houses, but a NYC toddler gave us something new, yet equally as scary, when she managed to crawl out onto the awning of a shop in Brooklyn. Thankfully, everything turned out okay, thanks to the help of a Good Samaritan.
Initially, employees at the Bensonhurst computer store had no idea that a young 18-month-old girl was crawling about on their awning, but a commotion outside drew them to the storefront outdoors.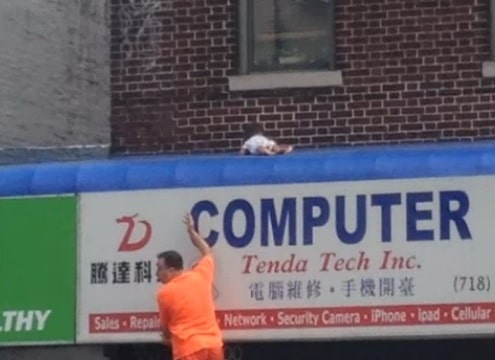 "We saw the baby crawling, and it was crawling towards the edge, and it was like, whoa," one witness, Gleb Chemerisov told NBC New York.
One of the computer store employees ran inside to grab a ladder so they could reach the baby, but the ladder was too short. That's when Qing Chen, a worker from the pharmacy across the street walked onto the tense scene.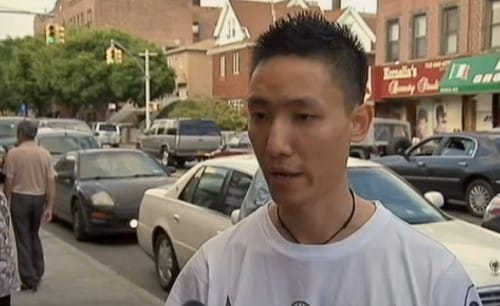 "We can't stand around, wating for her to fall," Chen told NBC New York. "So I went inside the apartment, and I went to the second floor, and I started knocking on [the] door."
The baby's grandmother answered the door after two minutes, but according to Chen, she hadn't seemed to even notice that the baby was missing.
"I asked her, I was like, 'Where's your baby?' and she just stood there," Chen said. "I'm like, 'Your baby's is outside. She's about to fall. I need to get outside, and she started crying."
The panicked grandmother then allowed Chen inside the apartment, but according to Chen, the windows wouldn't open. He had to crawl through a small hole between the air conditioner and the window, out onto the fire escape and then out onto the awning.
As much as he had to go through to rescue the little girl, Chen, a father of an 11-month-old little girl, says he doesn't see himself as a hero. He's just glad he was able to save the child's life, and he hopes that this situation makes parents more aware about supervision of tiny, inquisitive little people.
"When I gave the baby to her mom, I almost cried, because I know that could have happened to my baby," Chen said. "I'm glad that she's okay. I just don't want any of this to happen to anybody."
Paramedics arrived on the scene shortly after the rescue, and the baby was whisked off to the hospital for observation. However, at this time, it doesn't seem as if she's sustained any injuries.
Police also said that the girl's mother was inside the home at the time of the incident. However, they do not plan to press any charges at this time.
Related Articles: