Daddy's Girl! Bruce Willis kept his daughter Mabel close as he made his way through the Century City Mall with is wife Emma on Saturday.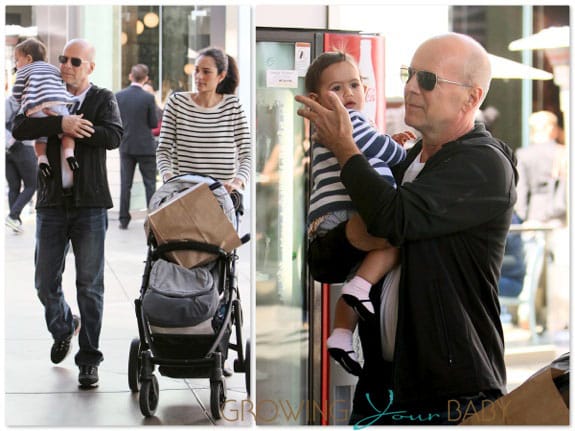 Emma pushed an empty stroller that was filled with packages while Bruce carried his little lady.  Emma and Mabel were dressed in stripes, while Bruce went casual in jeans and a tee.
A natural, Bruce recently said he prefers being a dad to being an actor,
"It's my favorite job, being a father," Willis said. "I have four girls now. They're a captive audience. They can't really run away from you even if they don't like your jokes. I just enjoy it. I love making my kids laugh and I still do the dumbest things in the world to make them laugh. I do that with my youngest daughter now to make her laugh."
When comparing his two jobs, he knows which one is more important.
"One is a job, it's a film concept and the other is real life. You want to try to get them ready to get out in the world and grow up to be women that have good morals and good intentions that are nice people who are kind. I never knew until they got older that I was having any impact on them."
---
{INFPHOTO.COM}
---