Modern gear company Bugaboo has been busy creating lots of new items for families on the go.  Famous for their beautifully designed strollers that seamlessly work in every facet of our lives, the company has debuted some great accessories that will further support parents as they get through each day.   Last week while at the ABC Kids EXPO in Las Vegas we had the chance to preview their new collection and are excited to show you what you can expect in the coming months from the company!
First!  The biggest news of the show for Bugaboo was their new jogger. The Bugaboo Runner is being touted as the  'One base fits all' stroller that offers parents a separate chassis designed purely for running.
Compatible with the Bugaboo Bee(from March 2010+)/Bugaboo Bee3, Bugaboo Cameleon3, Bugaboo Buffalo and Bugaboo Donkey, the Bugaboo Runner can also be purchased as a complete jogging stroller with a separate Bugaboo Runner seat. And of course you can connect your favorite Bugaboo accessories. Enjoy the freedom to move faster, whether you're a casual jogger, training for a race or just want to enjoy a better running experience with your child.
The Bugaboo Runner features large wheels with air-filled tires and a unique suspension system built into the chassis that absorbs any bumps along the way. The Bugaboo Runner's three-wheel base provides a stable ride and its front wheel is fixed for utmost performance, delivering the smoothest, straightest run possible.  In addition the Runner has an adjustable handlebar, hand brakes and it fold up compactly to store easily when not in use.
Look for the Bugaboo Runner to be available in the United States, Canada, Australia and New Zealand starting Spring 2015 and in Europe from Fall 2015. The Bugaboo Runner jogging extension (chassis and seat adapters) will retail for $425 USD/CAD. As a complete jogger, the Bugaboo Runner will retail for $755 USD/CAD (chassis, seat and seat adapters).
New this Winter fans will also love Bugaboos new collaboration with edgy clothing company Diesel. For the first stroller in the partnership they have designed 'a rugged and distinctive stroller for urban adventurers who are born to #BeBrave.'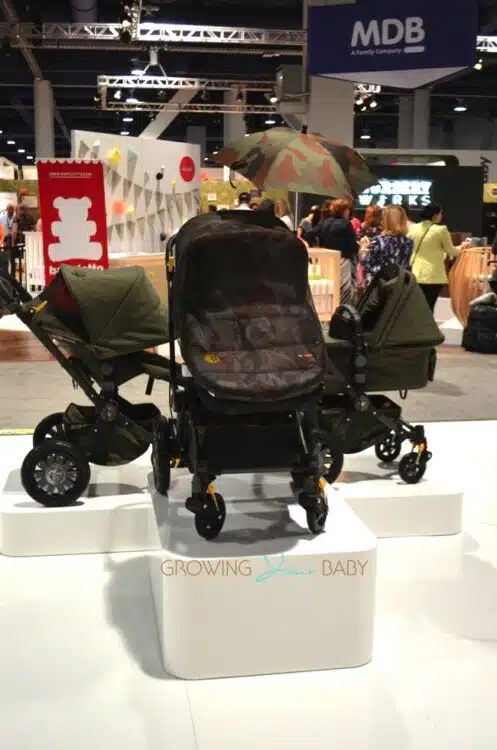 I was personally impressed with the details and will go as far to say that this is the most detailed collaboration Bugaboo has ever done.    Often they will do leather wrapped details and additional accessories, but this stroller is completely unique with its dark green anodized chassis complemented by an all-over green canvas with sophisticated black and brown contrast trims, custom logo patches and a soft interior.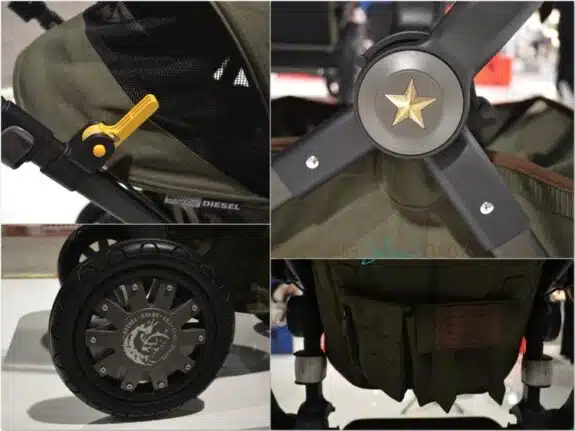 A detachable pouch provides convenient storage, while the stroller's faux leather handlebar and carry handle allow for comfort with a premium look and feel.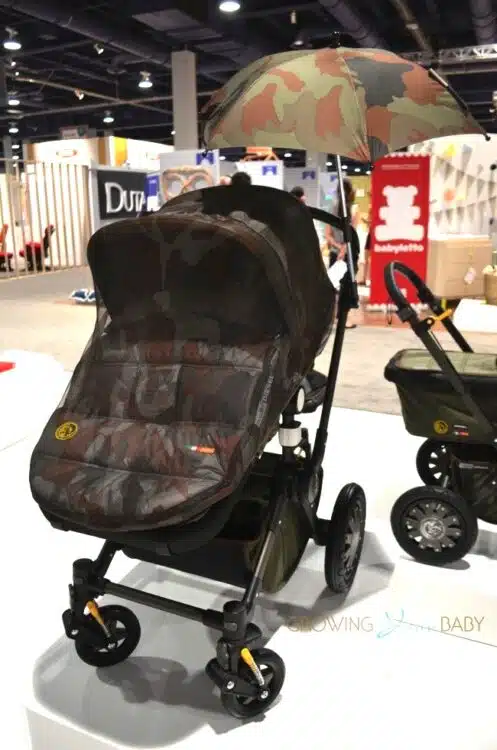 Function and style come together in the extended sun canopy, which integrates a mesh fabric panel for added breathability. The included mosquito net takes it a step further with a coordinating camouflage print that completes the military-chic look. Finishing touches like a gold metal combat star on the stroller's central joint cap, wheels featuring Diesel's iconic logo and many other details ready for discovery give this limited edition Bugaboo Cameleon3 that true Diesel spirit. Look for this stroller to hit stores in November 2014 and it will retail for $1299.  Additional accessories will be Footmuff: $175, Seat Liner: $79.95,  Parasol: $59.95 and Mosquito Net: $19.95.
Because the company knows that parents need more convenience when they're on the to they have created the stand which allows the stroller's existing seat to be used as an in-home bassinet or highchair.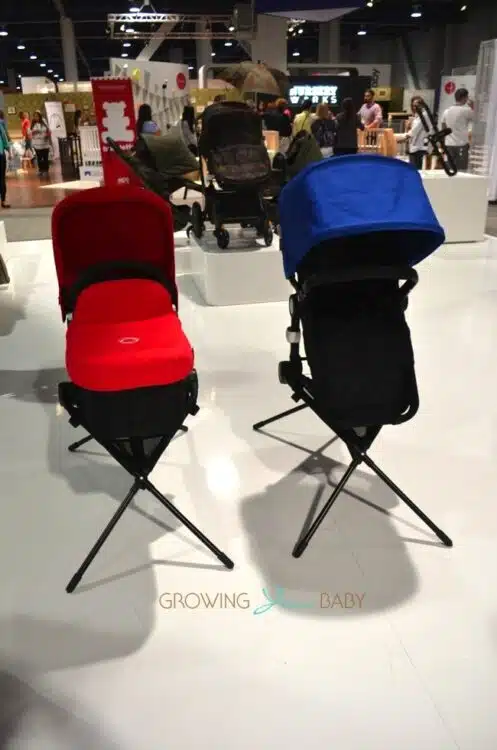 Weighing only 5.7 pounds, the Bugaboo Stand folds up compactly for hassle-free transport and comes with its own shoulder carrying bag for easy toting. Once at your destination, the stand easily unfolds into a sturdy base that attaches to your Bugaboo bassinet or seat with a set of easy-to-use adapters, while an integrated basket underneath stores all of your feeding and sleeping essentials.   The Bugaboo Stand will be available in the US with a MSRP of $129.95 (Bugaboo Stand + 1 set of adapters) in Spring 2015.
Also perfect for on the go is the Comfort Wheeled Board.  Boards aren't a new thing but one with a seat is definitely something parents have asked for.  Perfect for a day out, the Comfort Wheeled Board aims to give families utmost mobility by including a new seated option to enhance the mobile experience for both parent and the child. Flexible board positioning – left or right from the center – creates extra walking space while Bugaboo's signature suspension ensures a bump-free stroll.The Bugaboo Comfort Wheeled Board is compatible with all Bugaboo strollers and is available in select stores worldwide starting December 2014.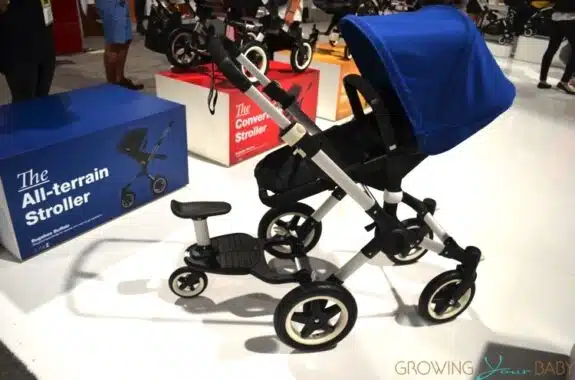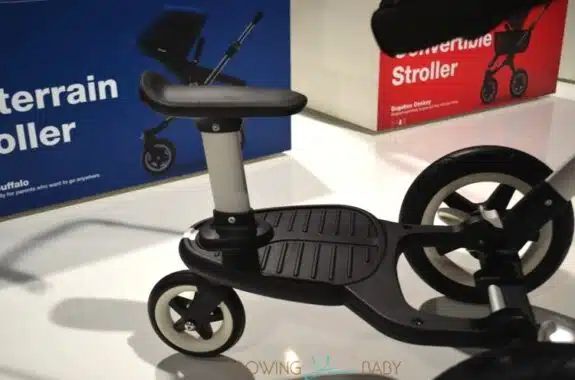 Debuted this Summer the Bugaboo Bee3 offers parents a bigger canopy, shopping basket and brand new fabrics and colors. 
The stroller also has fancy new wheels and styling!  New to the market in September, I had my first peek at the stroller at the ABC Show and loved the look and feel of the re-design.  Bugaboo definitely hits on all the points parents are looking for in a lightweight stroller.
---