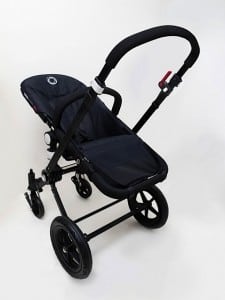 Bugaboo is joining forces with (RED) to empower parents across the globe to participate in the fight against AIDS in Africa. Through the new partnership with (RED), Bugaboo is inspiring people, and providing an opportunity for our customers to not only improve their own lives, but also the lives of others.
As of October 1, 2009, with any Bugaboo purchase, Bugaboo will contribute 1% of their total revenue to the Global Fund to help fund AIDS programs in Africa with an emphasis on the health of women and children.

Whether they purchase from the existing Bugaboo range, or display their support by choosing from the (BUGABOO)RED Special Collection, their purchase ultimately benefits those affected by HIV and AIDS in Africa, including millions of mothers and children.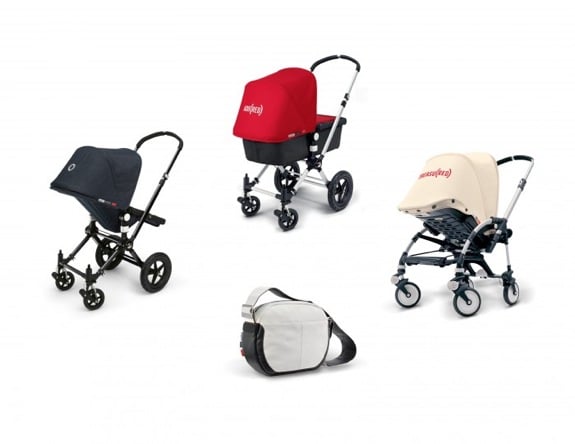 Available worldwide at launch, the (BUGABOO)RED Special Collection includes:
a Bugaboo Cameleon denim stroller featuring a unique black matte frame, dark denim fabric and a distinctive red brake handle. Like the standard Bugaboo Cameleon model, this (BUGABOO)RED Cameleon is a multi-terrain, infant-to-toddler stroller featuring an adjustable handlebar and swivel wheel suspension. To be available at multiple retailers for $1,029 USD
The (BUGABOO)RED Special Collection also includes a white leather (BUGABOO)RED Bag. The multipurpose modern carryall for adults is practical and stylish. The bag includes a changing mat, numerous compartments and removable food and drink containers. $164.95 USD @ Giggle and $219.95 CDA @ Momstobe
The (BUGABOO)RED Bee Special Collection TREASU(RED) for Neiman Marcus – NM stores and online $599 USD with red Bugaboo Bee footmuff
"We are proud to announce our partnership with (RED) and join forces with other iconic brands to generate funds and awareness to help eliminate AIDS in Africa. Through our partnership with (RED), Bugaboo along with our consumers can play a role in the fight against AIDS in Africa and help reduce mother to child transmission of the disease. Now when you go with Bugaboo, you can make good things happen. " Madeleen Klaasen, Chief Marketing Officer of Bugaboo International
In the UK, Bugaboo is introducing a similar collaboration with all (RED) strollers. Yesterday they hosted an event at the Rebecca Hossack Gallery to unveil the whole collection:
(RED) was founded in 2006 to engage the private sector in raising awareness and funds for the Global Fund, to help eliminate AIDS in Africa.
PHOTOCREDIT: BUGABOO, Jon Furniss/WIREIMAGE.COM
---