Just eight months after the arrival of Jordyn-Grace, Jim and Michelle Dugger have announced that they are expecting Baby #19!
The couple shared the news exclusively with The Today's Show host Meredith Viera this morning about the surprise pregnancy.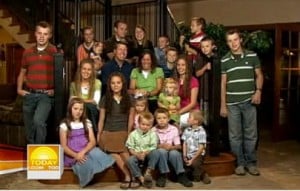 Michelle decided to take a pregnancy test after a weight loss program she is following was not showing results.
Even though baby #19 comes a little ahead of schedule for the family, (their normal spacing is about 18 months) they are still thrilled to add another member to the family.
Michelle also told Meredith she's dealing with the usual first-trimester nausea.
"I'm feeling sick and tired, which is a good way to be feeling about right now. I always tell myself that's a good way to be, because that means good things are happening."

Michelle has now been pregnant 147 months of her life, with five more to go. That's 12-plus years and counting.

For those who are counting, the Duggars report that they have changed an estimated 90,000 diapers and do approximately 200 loads of laundry a month. They feed their entire family on less than $2,000 a month and say that they live debt-free.
Also on hand for the announcement was the newly married and expecting Josh and Anna Duggar.They are just 6 weeks away from welcoming their first baby, a girl, to be name Mackynzie Renee.
Anna told Meredith, she was feeling good and 'really pregnant'.
"It's neat. It's exciting. I definitely have great role models, and it's neat to watch Mrs. Duggar teach and love her children."
---