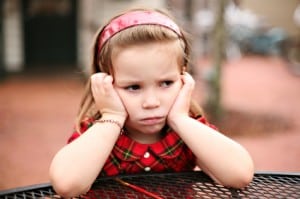 Many adults think that bullying is the subject of Junior High and High School. For many children however, bullying can happen as young as preschool and kindergarten.
According to an article in the New York Times, bullying among girls has become a problem at younger and younger ages. Girls as young as kindergarten and preschool has experienced bullying by other girls. The root of the problem is not entirely clear, though many experts have ideas as to what could be the cause. Some blame popular culture, some blame younger surges of hormones, and others feel that mean parents create mean children.
"I was in middle school before things got as awful as they did for Scarlett," said Scarlett's mother, Annelizabeth, who asked that her last name not be used to protect her daughter. "I understand that children are maturing much faster, but to see such hostility at this young age, wow. It was really shocking."
A survey of 1,144 parents found that many do worry about bullying at even a young age. Nearly 67 percent of parents of 3- to 7-year-olds admitted that they worried about bullying already. For good reason it seems, as other surveys have found that young children are experiencing bullying at higher rates than previously thought.
Secretary of Education Arne Duncan has made statements about bullying starting at young ages. A new government program called "Stop Bullying Now!" aims to reduce bullying among children ages 5 – 8 years old.
Parents have reported young children experiencing night terrors, sleepwalking, and low self-esteem caused by the bullying they have received. Even when parents have attempted to stop the bullying, it often returns again after a short break. For some, bullying comes back even worse.
Some experts point to television shows that encourage bullying and making fun of others. Shows that are geared to older children are sometimes watched by younger children and can influence how they act.
So much of what passes for entertainment is about being rude, nasty and crass," said Meline Kevorkian, who studies bullying at Nova Southeastern University in Fort Lauderdale-Davie, Fla. "What we see as comedy is actually making fun of other people."
Others, such as Rosalind Wiseman, the author of the anti-mean-girl bible, "Queen Bees and Wannabes," blames parents for creating a generation of bullies.
"Parents think it's really cute when their 2- and 3-year-olds are doing 'Single Ladies' or singing the Alicia Keys/Jay-Z song," Ms. Wiseman said. "But it's not so funny at age 8, when they're singing along to Lady Gaga and demanding a cellphone."
No matter what the cause, we know that bullying is a serious issue that can cause emotional harm to children who experience it. Parents are encouraged to find ways to discuss bullying with their children. Some resources parents can use are:
– Summer, staff writer
Related Articles: