Bumbleride's strollers are well known for being robust buggys that are equipped to go where you go!  Always evolving, they have made some changes for 2013 that we think parents will be excited about.  While in Louisville a couple weeks ago I had the opportunity to view the new collection.  Here are some of the new features they will be rolling out in the new year.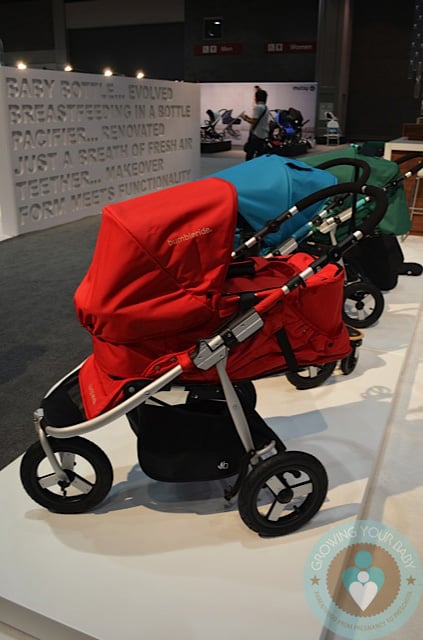 Famous for their zesty fabrics, Bumbleride has added 4 new colors
Cayenne- A two-toned spicy red.
Papyrus- A vibrant green with soothing blue seat
Lotus Pink- A dark teal with a splash of pink.
Lotus Blue- A dark teal with a splash of blue.
Last year when they introduced their Natural Edition collection, it was designed with 50% of the exterior fabric using recycled PET (plastic bottles) and 50% of the interior fabric from bamboo charcoal.  In 2013 all of the new fabric types and colors for all of their strollers will be produced using the eco-friendly materials, beginning with Indie in January.  The lotus pink is available with a bright blue or pink canopy (packaged separately) and will be available through specialty retailers only.
All models for 2013 will have new harness that feature 5-point breakaway system that prevents entanglement.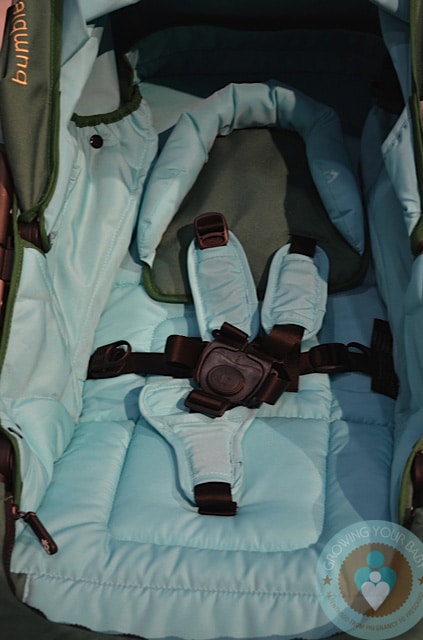 A new toddler board will be introduced that works with Indie and Indie Twin models using a clamp system.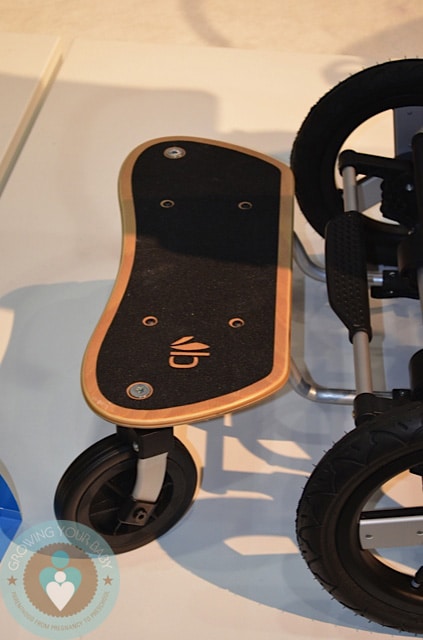 Bumbleride's popular Indie will get a slightly redesigned frame that makes it more suitable for jogging.  How?  The front portion of the frame's footwell helps to place weight further back on the stroller. On top of the new colors and 5-point breakaway harness, parents will notice a new easy to adjust footrest for infants (buttons on the outside), deeper footwell for larger toddlers and it will come standard with foldable bumper bar and universal car seat adapter.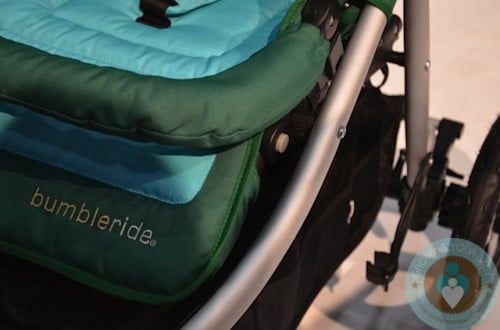 The Indie Twin will come standard with foldable bumper bars and universal car seat adapter.
The Flite will now be compatible with Carrycot for 2013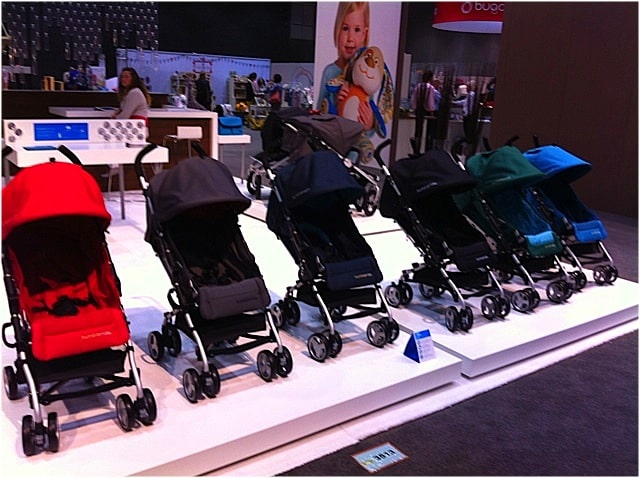 While at Bumbleride's booth we had the chance to preview a new model for them entirely called the Era. We were not allowed any images, so we are excited to see the new stroller when it is released in the new year.
The Bumbleride Era is a bit of a departure for the company as it will feature a chassis which is designed to accommodate a variety of seating options specifically formed to fit your little one throughout all stages of his early development.  The system's options consist of a lightweight aluminum chassis, infant car seat adapter, bassinet, modular/reversible seat as well as a lightweight soft seat designed specifically for larger toddlers.  The new optional toddler board attaches to Era to provide a ride along feature for growing families.
The Era will feature 10" rear and 8" front wheels, which are supported by durable suspensions that make city walking as smooth as possible.
It also uses a unique slide and lock system to attach its seating components to its chassis.  This new system provides the most lateral support possible, minimizing the seat's movement on the frame. This results in a more durable system that will function better and last longer.  The Era will also come with Bumbleride's new 5-point breakaway harness system.
The Era will be available in 6 color options utilizing the same 50% recycled polyester exterior fabric and 50% bamboo charcoal interior fabric combination as the rest of their collection. The bamboo charcoal fabric has a few unique characteristics including moisture absorption, temperature regulation and its ability to prevent bacterial growth.
---
[ad]