Whether you're feeding your child in your home or while you're away it can become a production. They're dropping everything, you're running to pick it up every two seconds and your food is getting cold. Busy Baby has designed a collection of mealtime items that will make clean-up easier while keeping the utensils close to your child.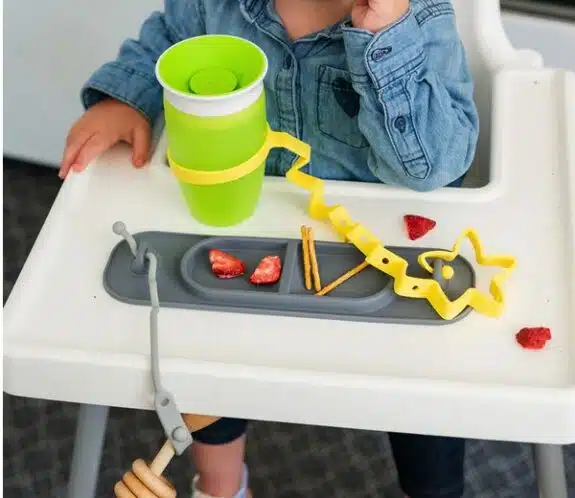 The Bungee bib is made with 100% food-grade silicone. Not only is it durable, but it is easy to clean, and safe for babies to chew on. Busy Baby has added adjustable tethers that can hold both utensils and toys, keeping them within reach and off the floor.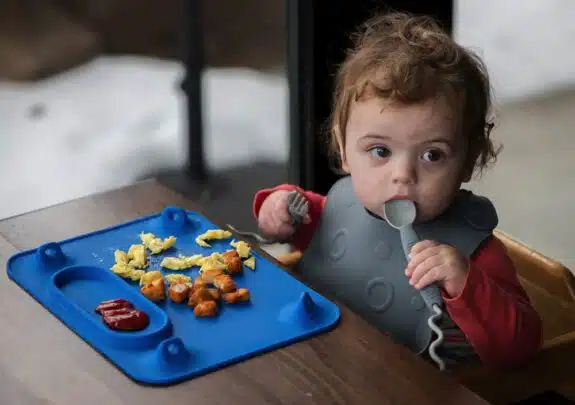 The bib has an adjustable neck closure and a wide, deep pocket that catches any spills or crumbs, making mealtime mess-free.
Its soft, flexible, and lightweight material makes it comfortable for babies to wear for extended periods of time. Best of all, when you are done using the bib, you can throw the utensils and tether straps into the pouch and it can be easily and securely rolled up for storage and transport.
My favorite item in the collection is the Silicone Placemat. Ideal for ages 4 -18 months, this food-grade silicone mat suctions to smooth surfaces and allows you to hook up baby's favorite toys so you don't have to pick them up off of the ground every two minutes.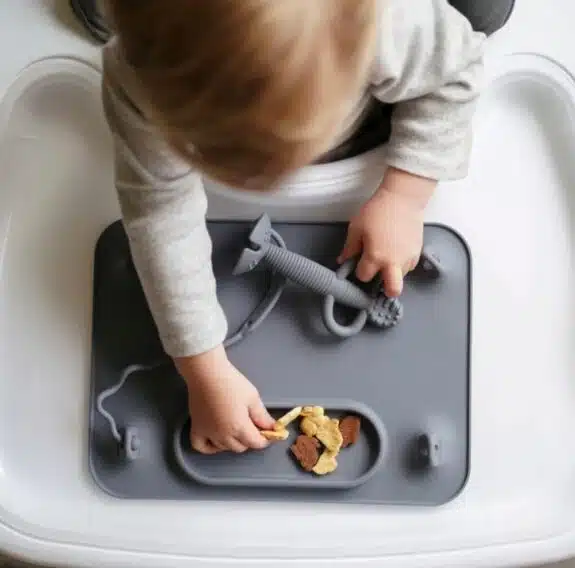 This mat measures 8.5″ x 11.5″ or roughly the size of a sheet of paper and it was designed with 4 Toy Straps tether toys to keep them close and clean.
Perfect for on-the-go, the mat, and toy straps roll up into a convenient travel sleeve that fits in all diaper bags and most purses.
In addition, Busy Baby also offers feeding utensils, teethers, a bottle bungee, a mini placemat for smaller surfaces and Learn & Play Mat for art time!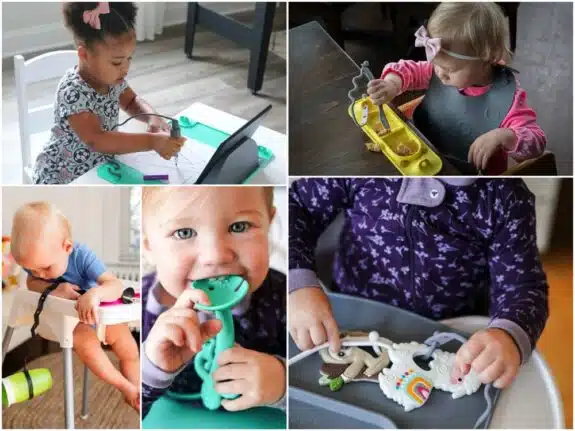 Visit Busybaby.com to check out their whole collection!