Cougar Town actress Busy Philipps was beautiful in a black Gabriella Candela gown while on the red carpet at the 19th Annual Screen Actors Guild Awards at the Shrine Auditorium on Sunday(January 27).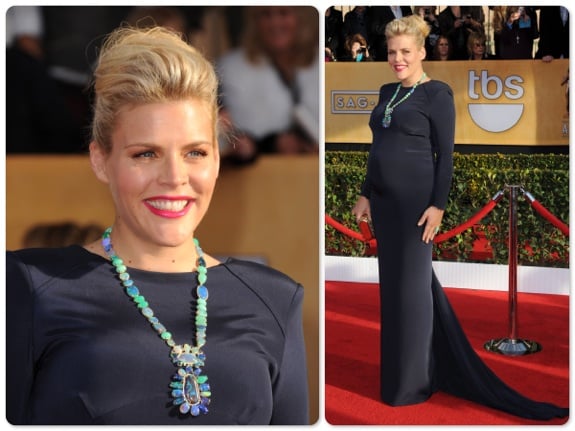 The mom-to-be co-presented the Female Actor in an Drama Series with Taye Diggs.
While on the red carpet she revealed to E! News Host Giuliana Rancic that she went back and forth about whether or not she wanted to show off her growing belly,
"It was hard to decide which way to go. Do you hide the bump, do you show it off?. I went with show it off! I embraced it!"
Due in June, Busy told People over the weekend that she was looking for a dress that was classic, but accommodating.
"You want it to be comfortable. I think it's important that it's sort of classic in design when you're pregnant, keep it simple in some way. Nobody wants to see a bejeweled pregnant lady from top to bottom."

So far, "I've had one fitting, I have another fitting. You have to keep fitting it because you grow every day. That's the secret. You just have to have an amazing seamstress."

And one other thing is certain. "I just have to make sure my shoes are going to be comfortable and big enough so that they my feet don't start swelling," notes Philipps. "That's not an attractive thought."
Busy accented her elegant dress with a stone necklace by L.A. designer Irene Neuwirth.  The whole package was elegant and beautiful.
---
---