One California couple has learned that extensive background checks are a must when hiring live-in help after a nanny they recently fired refuses to leave their home.
Marcella and Ralph Bracamonte of Upland, California, hired Diane Stretton, 64, as a live-in nanny on March 4 to help with their three children, ages 11, 4, and 1. The arrangement, they say, was that Stretton was to help around the house with the kids in exchange for room and board.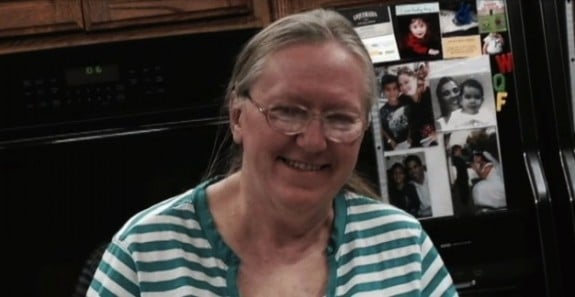 "We've done it before and have never had a problem," Marcella Bracamonte told ABC News. "I was a stay-at-home mom and thought it would be good to have someone around to help out."

"The first few weeks she was awesome," Marcella said. "She would come places with us, help out the kids. She was really great."
But then things changed.
"All of a sudden she stopped working, she would stay in her room all day and only come out when food was ready," said the mom of three.
Stretton says she suffers from chronic obstructive pulmonary disease, which prevented her from helping around the house.
After weeks of failed attempts to encourage Stretton to perform some of her agreed upon duties, the couple attempted to terminate the arrangement, but the nanny refused to sign a letter that noted the consequences of breaching the deal they had originally agreed on.
Instead she has been baracaded inside her room refusing to leave.  The Bracamontes had a second letter drawn up putting her 30-day notice in writing, which, they said, she also refused to sign.
"When I asked her why she wouldn't sign the letter she said 'It's not legal,' and slammed the door in my face," Marcella recalled. "Once she said the word legal, I knew it wasn't going to be fun."
Looking for some help the couple called the police, but were informed they matter was a civil matter, that can only be corrected by going through a formal eviction process.
A background check revealed Stretton has reportedly been involved in 36 lawsuits, which has landed her on California's Vexatious Litigant Lists for repeatedly abusing the legal system.
"Anyone who looks at her crooked, she sues," said Marcella.
The Bracamontes, it appears, are next on her list.  Stretton is now threatening to sue for wrongful firing and elder abuse.
Life with this woman has become a nightmare for the family.  She eats the family's food and has told them she wants them out of the house from 8 a.m. to 8 p.m.
"I'm not going to bend for her," said Bracamonte. "I'm in charge, this is my house. She's not going to scare me out of my own house."
The bigger concern at this point is their kids safety.
 "I worry there's obviously something not right in her mind, and the police won't protect us until someone gets hurt," Marcella said in the interview.
In an attempt to make life less comfortable for the unwanted house guest the couple has turned off the cable and internet and keeps a lock on the refrigerator.
Now they just wait for her next move.
---
[ad]