UPDATE Monday January 5th, 2015: The search for Eliza has ended tragically after the baby's body was found by a passerby in a dumpster in Imperial beach, California, near the Mexican border. A man was reportedly sifting through a shopping center dumpster on Sunday afternoon when he came across a trash bag containing the body and called police.
ORIGINAL POST Sunday January 4th, 2015: Police in Long Beach California are asking for the public's help in locating a 3-week-old baby girl who is missing from a home where her mother, father and uncle were found shot.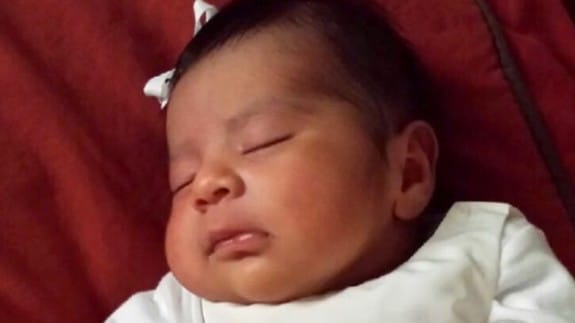 The shooting, police believe, was not a random act, and they are looking for an adult male but have not revealed if he is related to the missing infant.
When officers responded to the call about the shooting on Saturday, they found the two brothers and the baby's mother with gunshot wounds. One of the brothers is the father of the child.
Two victims remain hospitalized in critical but stable condition. The other was treated and released.
The 10-pound baby girl, named Eliza Delacruz, is the focus of an urgent police search.
Authorities asked the public to call the police if they know of anyone who has brought home an infant under suspicious circumstances in the last couple days.  The baby can also be dropped off at the police station, hospital or fire station.
Police released a photo that showed the baby girl sleeping on a red blanket in a ruffled white dress with a white bow in her hair.
---
[ad]