Every child comes to a time in his or her life when they start making those really out-there requests for dad to build something in the backyard. You know, they request dad to build things like castles, rocket ships, race tracks, a roller coaster. While these requests may seem outlandish to many, one California father saw a great opportunity in building a backyard roller-coaster when his child requested one.
Will Pemble, 50, wants to set an example for his children, showing them that anything is possible when effort is put forth. So when his son Lyle, 10, requested the roller coaster, he could find no reason not to do it. There was some trepidation going through his mind about it, like the expense of the coaster, the time it would take to build, and insurance reasons. But according to Will, "None of those reasons seemed good enough to not do it. I try to say yes, rather than, 'No, you'll poke your eye out.'"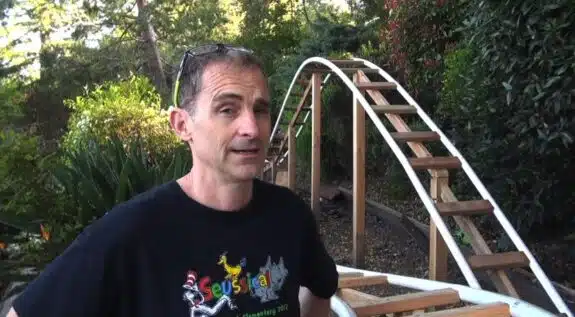 Will, an Orinda, California native, who is employed as an e-commerce consultant, looked at the project as a unique way to teach hands-on lessons in physics and math, as well as a big opportunity to make memories and work together with his kids on something big. Will says one of his first thoughts after he agreed to tackle the big project was, "How cool would it be for my kids to say when they're my age, 'I built a roller coaster with my dad in the backyard.' I knew this was something they would always remember." It was only a short time later that he was headed to the lumber yard to purchase supplies and breaking ground in his backyard.
The project officially began in autumn of 2013 and took approximately 300 hours to complete, with the total cost being $3500. The roller coaster was created with parallel PVC pipe laid over a lumber frame. The Pemble family's small backyard, which only totals a quarter of an acre, is nothing but one giant coaster now, with two large hills. Both of Will's children, Lyle and Ellie, 12, helped with the project, digging many holes and even learning how to use power tools. Lyle used a roller coaster simulation software similar to CAD to help design the project.

Will even named his backyard adventure, aptly calling it "The CoasterDad Project," where he blogs online with updates, and often posts videos about the project, as well as writing reviews on the various amusement parks his family has visited. On CoasterDad, he writes
"Today, our backyard roller coaster is an unending source of excitement, challenge, education and connection. I love it because it brings together all the three things I love best. Physics, Family and Fun. The whole family has been involved in the project. The neighbors check in and see how we're doing."
It's safe to say that the Pemble family are big roller coaster fans, with the family riding roller coasters throughout the state of California, like the old-school coaster Big Dipper at the Santa Cruz Beach Boardwalk, to Magic Mountain's Goliath coaster. Will says,
"If you look up any amusement park in California, we've been on every coaster many, many times."
Coasters hold a special place in Lyle's heart, and he has become a walking expert on them, memorizing everything from the coaster's track lengths, to the names of the companies who make them, even the top speeds that they can reach. Will explains,
"He's got a data centric brain. He can remember masses and masses of information. When he gets interested in something he digs deep."
It all began in the summer of 2013, after a day of riding some of the scariest rides at Magic Mountain, when Lyle looked at his dad and said "Why don't we build our own roller coaster, Dad?" As the old adage says, the rest is history.