Earlier this year, on a mid-October evening, Jason and Kirsti Kinkle were filled with joy as they welcomed their daughter, Kiira, into this wonderful world. However, by the very next day, the couple learned that Kiira is afflicted with a very rare disease that makes skin-to-skin contact virtually impossible. Kirsti said, "This is the worst disease you've never heard of."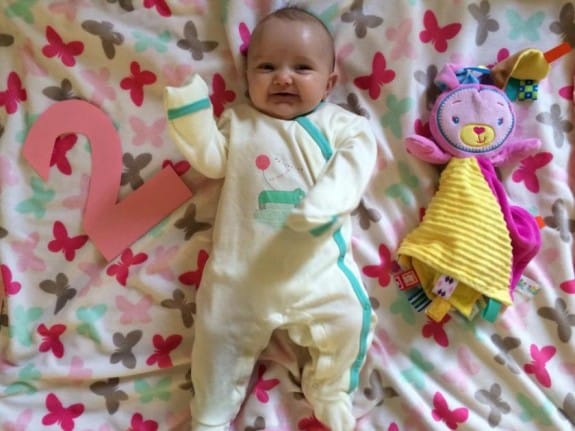 The Kinkles were informed that their daughter was born with recessive dystrophic epidermolysis bullosa, a genetic skin disease that will cause skin to tear and blister from friction, scratching, adhesive tape and rubbing. Kinkle added, "A clothing tag or rough fabric or even me picking her up under her arm can cause blisters. I can't hold her hand because it's constantly bandaged. There is no skin-to-skin contact." Kinkle said that the only way she can pick up her daughter is if Kiira is wrapped in a soft blanket, a kind of protective barrier between mother and child's skin.
While the Christmas season is typically a time filled with great joy and excitement, it is filled with apprehension for the Kinkles. The family met with a team of medical experts earlier this week at Stanford's Lucille Packard Children's Hospital, in hopes of getting a better idea of the next steps they need to take. Kirsti said, "There is no cure, but doctors at Stanford and the University of Minnesota are working toward something. But everything right now is just a treatment to improve conditions, but not get rid of it."
The family has been sharing their story far and wide, in the hopes of raising awareness of this little-known disease, so that greater funding will be given to researching it in the future. Dad, Jason said, "It's so rare there's not a whole lot of awareness and therefore not a whole lot of money." For the moment, though, the family will continue to spend a few hours each day, devoted to individually wrapping up each of Kiira's toes and fingers and bandaging her fists and feet to protect her skin from herself, in addition to her two older siblings, who pray every night for their sister's "owies" to go away.
While the Kinkle family does have medical insurance, they have been told that it will not cover the approximately $10,000 to $20,000 annual cost of daily at-home treatments for Kiira. The Kinkles say that it is the outpouring of support and love from family and friends, in addition to constant prayer that gives them the emotional and physical strength they need to move forward in a life where they will not be able to hug and hold their child, like many parents can. Kirsti said, "I would never wish this on anybody, knowing she's going to live a life of pain."
If you would like to learn more about Kiira's condition, or to make a donation, please visit KiiraKinkle.com.
---
[ad]