Andrew Jacob broke records over the weekend when he arrived weighing a robust 15lbs 2ozs! Measuring 24 inches long, the baby is twice the size of the average newborn and almost 9 ounces bigger than Isaiah Lawrence Johnson, who was the biggest baby born in the United States in 2013 when he entered the world just before Christmas.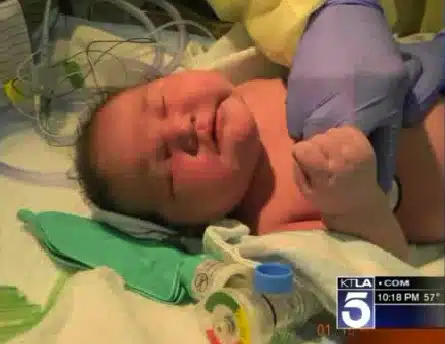 Completely unexpected, Andrew's parents Vanessa and Daniel Cervantez were shocked when they heard what he weighed.
"I couldn't even believe it," Vanessa, who is 28 years old and only 5'1″ told Victor Valley Daily Press. "They had to double-check because I didn't believe them; I thought the machine was broken."
Born a little early, doctors delivered the baby by emergency c-section after little fetal movement was detected at 38 weeks.
"None of the doctors have ever delivered or heard of a baby being born that big here," Cervantez continued. "My sister's been doing research and she doesn't think a baby weighing 15 pounds has ever been born in California."
While he may look mature, Andrew is now in the ICU at Loma Linda Children's Hospital under observation for breathing issues.
"He's having trouble breathing on his own," Vanessa explained. "That's what they're monitoring him for right now."
Despite her petite size, Vanessa's two older children also arrived larger than normal; 10 lbs, 10 oz and 9 lbs, 14 oz at birth, which means she likely suffered from gestational diabetes when she was pregnant.
The condition occurs when the body is unable to produce enough insulin and/or use it correctly. As a result, the expectant mother can no longer convert starches and sugars from food into energy effectively.
Over the weekend we reported on another baby, who was born in December weighing 14.5lbs in Toronto.  At birth, he also experienced some issues breathing and controlling his blood sugars, which led to a 6-week stay at the hospital.
Hopefully, Andrew's issues will be corrected in the coming days and he will be able to join his family at home.