Those of us that live in the United States are familiar with the insurmountable costs of medical insurance. Many of us know what it means to avoid going to the doctor, even when we probably should, because we don't have insurance or cannot afford to meet the deductible. A Canadian mother recently fell victim to those crippling costs after going into premature labor while visiting Hawaii.
Jennifer Huculak was just six months pregnant when she and her husband flew to Hawaii for a vacation. Prior to her trip, she purchased Blue Cross insurance, and she sought out medical clearance from her doctor.
Just two days into the trip, Jennifer's water broke. She spent the next six weeks on bed rest in a Hawaiian hospital before her daughter—nine weeks premature—was born.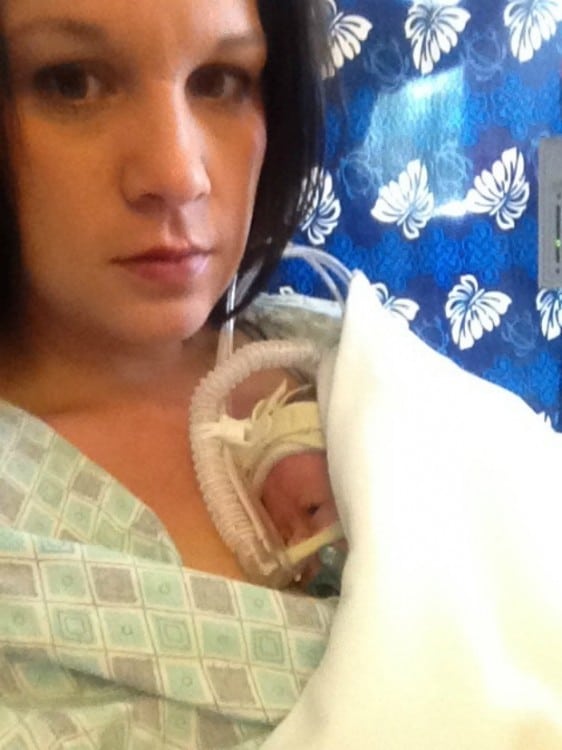 Their baby girl is fine, and is now healthy, and the Huckulaks couldn't be more grateful.
But because she was premature, their daughter had to spend time in the Neonatal Intensive Care Unit—a treatment that costs upwards of about $15,000 per day. Upon leaving the hospital, the Huculaks were shocked to learn that they had been left with a $950,000 medical bill for Jennifer and her daughter's treatment.
"It makes you sick to your stomach," Jennifer told CTV Saskatoon. "Who can pay a million dollar medical bill? Who can afford that?"
The Huculaks were even more disheartened when they were informed that the insurance they'd purchased had denied the claim, arguing that Jennifer had a pre-existing condition.
"Mrs. Huculak was diagnosed and treated for a high-risk pregnancy in the six months prior to departure," the company wrote in a letter to the couple. "As Ms. Huculak is currently hospitalized and being treated for this high-risk pregnancy, any expenses incurred are not eligible under the terms of your policy."
But Jennifer said she didn't have a high-risk pregnancy; she had a bladder infection that led to bleeding.
"The specialist in Hawaii said that these things just happen," Jennifer said. "There's nothing that causes them."
To try and help the claim along, Jennifer's regular obstetrician wrote a letter to Blue Cross, saying that her bladder infection did not lead to the early preterm labor.
The claim was denied, yet again.
Jennifer says that she is angry because the pamphlet she'd been giving on the policy contained no fine print explaining any rules for pre-existing conditions. Now, she and her husband are trying to decide if they should try and fight Blue Cross, declare bankruptcy, or wait and see what happens.
They've received overwhelming support from people wanting to chip in and help, but they have declined to accept any funds. Jennifer told CTV News that the main point they wanted to get across was that other Canadians—who have all of their medical bills covered, including those that relate to NICU care and even pre-existing conditions—need to be aware of situations such as this when traveling to the United States.
"It's a very sad situation to be in and people need to be aware that insurance companies will deny you if they have anything they can go on," she said.
As a citizen of the United States, this makes ME angry. Not just for this family, but for all of us. We have some of the poorest health in all developed nations, and this very problem that Jennifer has faced is exactly why. Unless you have good insurance coverage (which a good share of us can't afford), you have to choose between regular care and treatment or bankruptcy. And Lord, help us if we should ever have some sort of a medical emergency.
Only when medical care is no longer a crippling issue in the States will we ever start to see a true uptick in the health of America. I only hope this family, who otherwise would not have had to suffer through the screwed up legalities of insurance and medical care, can find a way to pull through without suffering the same fate that so many of us Americans fear will happen to us.
Because, truth be told, in America, we all just one accident away from bankruptcy.
Related Articles:
---
[ad]