Human milk banks could save thousands of lives by providing breast milk to premature infants whose mothers are unable to produce enough milk on their own. The Canadian Paediatric Society is now urging the government to establish more milk banks throughout Canada to provide donated milk to infants in need.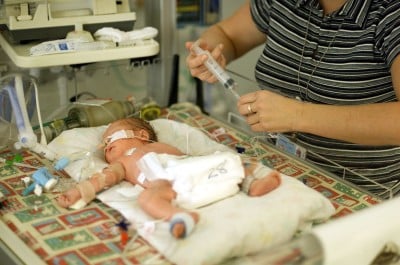 The Canadian Paediatric Society, made up of 3,000 pediatricians, pediatric specialists and other child-health professionals across Canada, is pushing for human milk banks to help increase the amount of donated breast milk for infants in need. They are basing this on several studies that have found that premature infants survive and thrive better when given breast milk rather than infant formula. Having a greater supply of breast milk could reduce the amount of illnesses and deaths among infants.
Studies have found breast milk is the best option when feeding newborn babies because it offers numerous benefits — from improved development to healthy growth patterns, and lower rates of both infection and sudden infant death syndrome, said Dr. Sharon Unger.
Only about half of mothers who have had a premature infant are able to provide enough breastmilk. Illness and stress in the mother can lower her supply, making it extremely difficult to provide enough milk. The researchers estimate that 7 percent of babies born in Canada are premature. All of which would benefit from a readily available supply of human breast milk.
The European Milk Bank Association has 155 human milk banks in 23 countries. However, in North America there are only 11 banks. In Canada, there is only 1 accredited bank in the Vancouver area. This makes providing milk difficult when it is needed most.
Donated breastmilk would be pasteurized and cultured by the same methods used on cow's milk. While this decreases some of the vital nutrients in the milk, Unger says fortification can easily make up for the losses. Overall, having human milk available is still worth it.
"Every time you do something to milk, it loses some of its components and some are important and can't be replicated, but that same loss is easy to compensate for," she said
The researchers are studying what differences pasteurized human milk verses non-pasteurized milk would have on infants. – Summer, staff writer
Related Articles:
---
[ad]