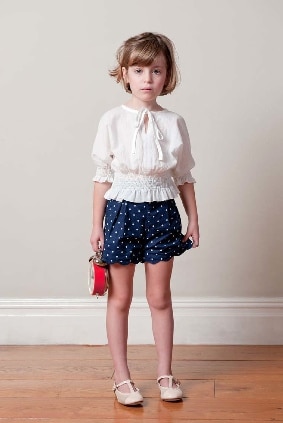 London based children's clothing label Caramel Baby & Child has created a beautiful collection of children's and baby's clothes that are simple, comfy and stylish in a soft color palette.
The spring/summer 2011 is sure to be a hit with both moms and their kids!  With items for both boys and girls suitable to take them from school to the park and even a summer garden party, Caramel Baby & Child has created a wonderfully versatile collection.  For little boys a cardigan over a t-shirt or shirt and straight-legged pants will keep them stylish.  Or perhaps a sweater and a pair of shorts is more his style.  Little girls will be delighted by the collection of easy dresses, skirts, blouses and shorts in earthy colors of yellow, sage green, terra cotta and off-white.
For babies Caramel Baby & Child has a wonderful selection of one piece rompers, tops, bloomers trousers and darling dresses.
Designed with comfort and today's modern child in mind, with not a logo or glitsy faux accessory in sight, Caramel Baby & Child has put the child back into children's clothing. – Belinda, Staff Writer

---
Related Articles:
---