Catherine (Kate)Middleton's pregnancy style has quickly become the talk of the net. With five public appearances in the last 10 days, many are applauding her simple, but classy looks as she heads into her third trimester.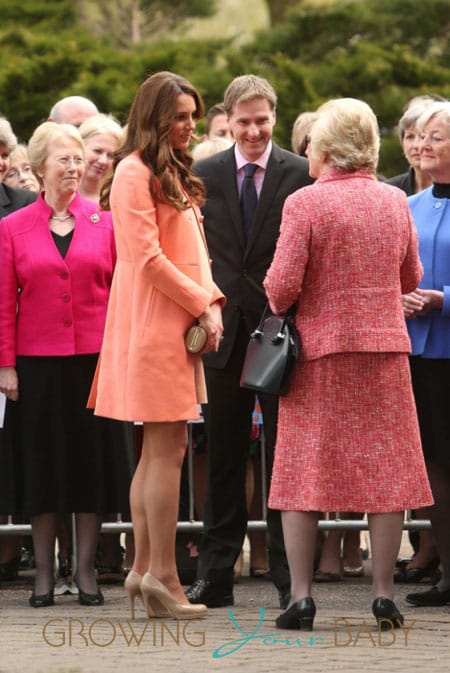 Today, the Duchess of Cambridge visited Naomi House children's hospice near Winchester, Hampshire and met with many of the children staying there. The cause is very close her heart as she as Patron of East Anglia Children's Hospices. While at the center Kate spoke to the hospice's volunteers, patients' families and supporters.
Upon arrival the mom-to-be was presented with a bouquet of flowers by Sally Evans, an 8-year-old little girl with spinal muscular atrophy, who is cared for at the hospice.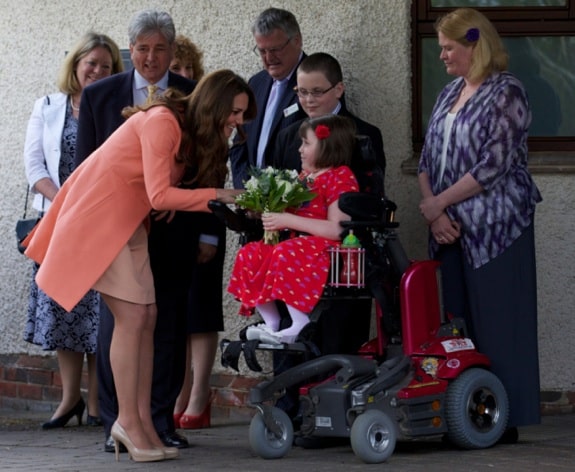 Her second anniversary, she revealed that her husband William was on shift on the Isle of Anglesey, so they would not be spending their anniversary together.
Kate dressed her growing belly in a nude dress that was created by her personal dressmaker and a cotton twill peach coloured coat by Paris-based designer Tara Jarmon.
Professor Khalid Aziz, chairman of Naomi House, which was opened by The Prince of Wales in 1997, said:
"We are delighted that Her Royal Highness has chosen Naomi House to visit at the start of Children's Hospice Week.

"Her presence has provided a real boost for our families, our volunteers and all our dedicated staff who were thrilled to meet her."
The visit comes just a day after Duchess' very first broadcast message was released in support of Children's Hospice Week.
"Children's hospices provide lifelines to families at a time of unimaginable pain," she says. "The support they give is vital."
In the video she urges the public to visit togetherforshortlives.gov.uk to donate to keep the services going for needy families.
---