A pregnant Céline Dion shows off her growing belly in the latest issue of Canada's 7 Jours magazine.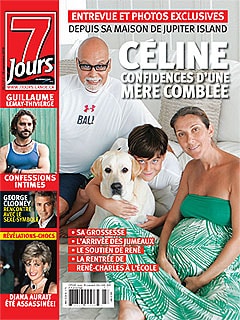 After six attempts at in-vitro fertilization, the singer became pregnant with twin boys this Spring.
Céline told the magazine that her journey has been fairly uneventful aside from the first two months when she experienced morning sickness, hot flashes, and nausea.

"In a certain way, that reassured me, like a sign that my pregnancy was progressing. Now, everything is falling into place. I have a little belly."
The singer's press rep recently denied a French tabloid's claims that the singer, who is now 28 weeks along, was rushed to the hospital following pregnancy complications.
"She's never been in the hospital — her pregnancy continues to be healthy and she feels fantastic."
"As with most women expecting multiples, her doctor wants her to stay off her feet as much as possible as she finishes her pregnancy."
I love that she posed au natural for the cover with her family. She looks great! We wish Céline the best for the rest of her pregnancy.
Related Articles: