One-year-old Layla received a devastating diagnosis: incurable leukemia. The little girl was out of conventional treatment options and expected to die until doctors at Britain's Great Ormand Street Hospital suggested a highly experimental treatment. Her mother Lisa Foley was willing to try every possibility to save her baby, and agreed to the unusual medical option. Layla was given genetically edited cells in a tiny 1-milliliter intravenous infusion.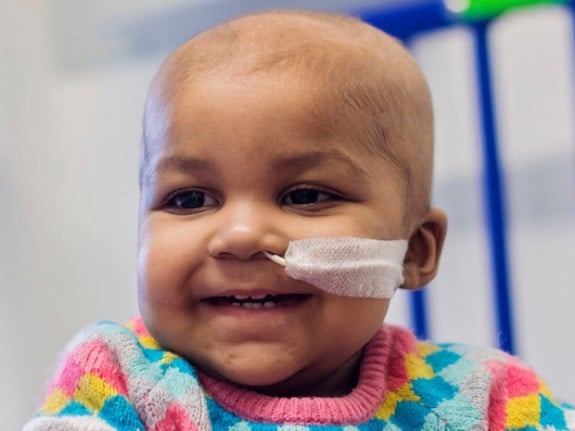 Doctors used a new gene-editing technology where specific genes are cut to make T-cells behave in two specific ways: they are rendered invisible to powerful leukemia drugs that would normally kill them, and these cells are reprogrammed for a single purpose, targeting and fighting leukemia cells.
Two months after this experimental therapy, Layla is home from the hospital and cancer-free.
Scientists at the hospital and University College London worked together with the French biotech firm Cellectis to prepare Layla's gene-edited cell treatment. Cellectis is now funding full clinical trials of the therapy, due to start next year.
Some scientists have questioned the approach because of the possibility of problems with patients rejecting foreign cells. This is the first time that cells from a healthy donor have been used in a process that could lead to a ready supply for multiple patients. Other drugmakers – Novartis, Juno Therapeutics, and Kite Pharma – have tested genetically modified T-cells extracted from individual patients but the French biotech, working with US giant Pfizer and Novartis believes that its method is faster and cheaper than the complicated process of creating specific single-patient gene therapies.
On Wednesday the results of Layla's case will be presented at the American Society of Hematology's annual meeting, even as doctors keep close watch to see if the results in Layla's case are sustained.
And while it's still early days and long-term clinical studies on more patients are needed to validate the treatment, Layla's mother is glad that she took the chance, saying the "only option we couldn't accept was inaction.'
---
[ad]