The popular social networking site, twitter, was a flurry of activity last night as tweeters around the globe pooled their knowledge, called in favours, and coordinated paperwork and transportation; all in aid of one little girl in Haiti.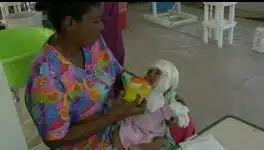 The child's name is Landima. She is three months old and has already seen more strife than most people see in 80 years. She survived the earthquake, but her mother is missing and presumed dead. She has no other known family. Her arm was crushed in the rubble of the hospital that collapsed on her. It had to be amputated. At the time of the quake, she was being treated for a serious burn to her head, which has caused an area of bone in her skull to die. This section of bone needs to be replaced by a titanium plate. The risk of systemic or even brain infection is acute. Her doctor, vascular specialist Dr. David Nott, estimates there is a seven to 10 day window in which to treat little Landima, before she becomes another casualty of the earthquake.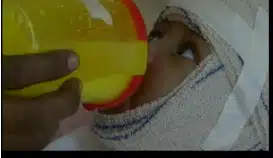 The complicated surgery cannot be completed in Haiti. According to Dr. Nott, "The child needs urgent treatment in a neurological centre." It is hoped that she can be evacuated to the Chelsea and Westminster Hospital in London, one of the few places in the world that is capable of completing the surgery.
But, in the wake of the high-profile child trafficking allegations against a group of American missionaries, it is extremely difficult to remove a child from Haiti without the proper paperwork. Landima is one of many newly orphaned children who lack papers. Transportation also needs to be arranged. Nott has bonded with the infant and will not give up his efforts to ensure that she gets the treatment she needs. Channel 4, from the UK, aired the story today.
That's where Twitter comes in. When the story broke, Shaun King, a pastor from Atlanta, spearheaded an effort that saw people in America, the United Kingdom, and Haiti coordinate their efforts to locate the hospital Landima is in, establish GPS coordinates, find contact information for Dr. Nott, arrange flights and work out the legal technicalities.
There has been an outpouring of support and emotion for this little girl. "babies are still dying by the HUNDREDS in Haiti every day! Every single day. And most of these babies are dying from treatable, preventable issues and are just a few hundred miles away from us. In an increasingly flat world, where Haiti is just an "@" sign away, we have no excuse for not caring. NO EXCUSE for not fighting for babies." King wrote on his twitter page. He added, "I think the work we do together on Twitter proves the compound power of networks/small groups!"
The twitter crusade has gone well. Transportation has been arranged, it appears that the red-tape has been sorted through and there are high hopes that Landima will be receiving treatment in Britain as soon as tomorrow night. It remains to be seen, but if they are successful in having the infant transferred from Haiti to the hospital in London, these tireless tweeters will have surmounted a logistical nightmare in a matter of a few short hours. Such is the power of social networking.
This is not the first time King has thrown his twitter account into overdrive for a worthy cause. He was nominated, this year, for a Shorty Award in the non-profit category. The Shorty Awards celebrate "the best producers of short real-time content 140 characters or less on twitter." King came in third in his category but I don't think we've heard the last of him. – Jen R Staff Writer
Related Articles: