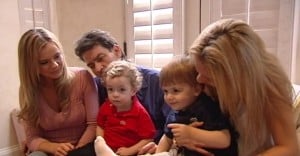 Troubled actor Charlie Sheen has made a public call for his children after they were removed from his home. Sheen's twins were taken via a court order put into place by his ex wife, who claimed the children were not safe in his care.
Just hours after his children were taken, Sheen appeared on television saying his was more focused than ever to get his twins returned to his home. A visibly angry Sheen was outraged not only at his children being removed, but also that he has not been informed of where they are. During an interview with his attorney, Mark Gross, Sheen said he had heard reports of where his children might be, but none have been confirmed.
"You or any other father has a right to know where your children are," Gross told Sheen during their interview
The troubled actor has been in the news lately due to outspoken comments and rants, as well as alleged drug abuse. Despite this, Sheen says his children were safe and well taken care of in his home.
Sheen's ex wife, Brooke Mueller, went to the courts to get an emergency custody order to have the children removed from his home. Mueller told the courts that Sheen had threatened her with violence, and claimed that she had concerns about the twins' home environment in Sheen's care. Sheen denies that he made such threatening comments to Mueller.
"I did not. That's a good one, I guess; I guess if you spend enough time around me, you can formulate things that could have come from my mouth. But you could do that watching reruns,"
When authorities came to remove the children, Sheen handed them over carefully and did not resist. He had his lawyer on the phone and recorded the incident as it happened. Though Sheen has a restraining order preventing him from contacting Mueller, he used the interview as a chance to reach out to her and plead that he be notified of where his children are being kept. Sheen worried that Mueller is still using drugs and is not providing a safe place for the twins. – Summer, staff writer
Related Articles:
---
[ad]