Congratulations are in order for former first daughter Chelsea Clinton and her husband Marc Mezvinsky after the pair welcomed a baby girl on Saturday!
Just after noon on Saturday Chelsea announced the exciting new on twitter saying,
Marc and I are full of love, awe and gratitude as we celebrate the birth of our daughter, Charlotte Clinton Mezvinsky.
Shortly after, she shared a picture of the new family along with a note,
At 7:03 PM on September 26th, we finally met Charlotte. We're in love.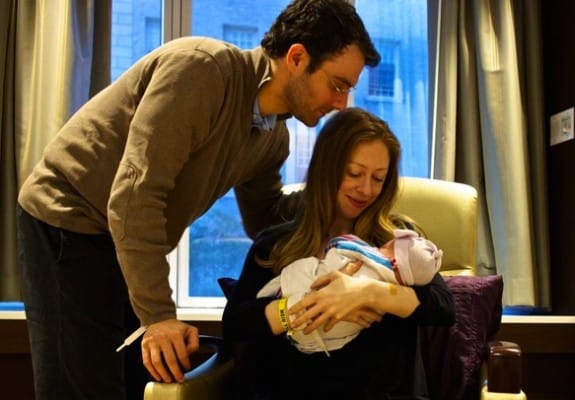 Grampa, and former president Bill Clinton followed up the announcement with a picture of himself and his wife Hillary with the baby saying,
Charlotte, your grandmother @HillaryClinton and I couldn't be happier!
Hillary then tweeted with her own photo,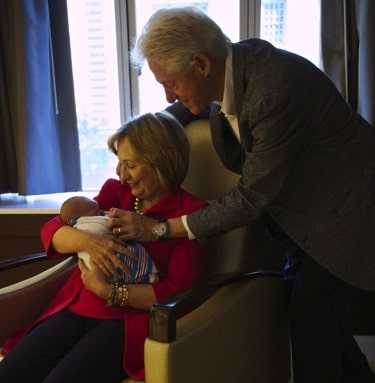 @BillClinton and I are over the moon to be grandparents! One of the happiest moments of our life.
On Tuesday Chelsea had revealed that she and Marc had decided to not find out what the sex of the baby would be.
"There are so few mysteries in life…any answer is a happy one," she said. "So my husband and I decided that we would enjoy this mystery for the nine-plus months that we're granted, and we are eager to find out what God will have given us."
Earlier this year she said that if the baby was a girl she would have the benefit of strong roles models in our world today.
"I certainly feel all the better whether it's a girl or a boy that she or he will grow up in world filled with so many strong female leaders," she told a Clinton Foundation event promoting the empowerment of girls and young women.
With her grandmother slated to run for president in 2016, this baby girl may get to see her become the first female president in the history of the country – a move that would show her how strong women in this day and age can be!
{twitter{
---